Before You Skip a Premium...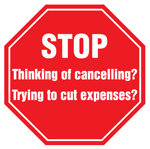 The recent economic challenges have all of us considering ways to cut our monthly budget. You might feel your USBA life insurance would be a good consideration for the chopping block, but think about the long term impact. Letting your insurance lapse or cancelling it altogether should be the last thing you would want to do if expenses are on your mind. Imagine how things might be for your family if the unfortunate should happen and your coverage was no longer active.
Before you decide to skip a premium, let your policy lapse or cancel it, remember the reason why you made the caring decision to purchase it in the first place. You can't predict the future, but you can prepare for it by making sure your family is financially protected.
Instead, check out your alternatives. Your insurance needs or situation might have changed, requiring an adjustment in your coverage. Or there may be other budgeting options for you. USBA cares about its members and welcomes the opportunity to explore options with you when you find yourself financially challenged. Contact us today.