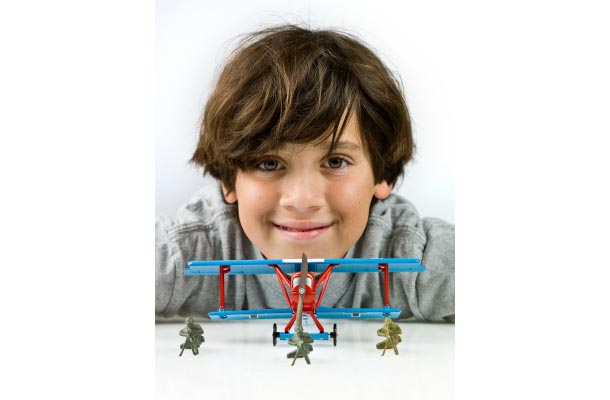 April is Month of the Military Child. It's a time when our country honors the sacrifices made by our military dependents worldwide. Month of the Military Child is part of the legacy left by former Defense Secretary Caspar Weinberger. He established this Department of Defense (DoD) commemoration in 1986.
As a special highlight, Wednesday, April 10th is "Purple Up! For Military Kids" Day. It's a fun and easy way to honor our military kids who have one or both parents serving in the U.S. Army, Navy, Air Force, Marines, Coast Guard, National Guard and Reserves and those coping with the absence of deployed parents.
Anyone can participate in "Purple Up! For Military Kids" Day. All you have to do is wear purple on April 10th as a show of support. (That date may vary locally). Why purple? Purple is the color that brings all military children together. It symbolizes the combined colors of all branches of the U.S. military; Army green, Navy blue, Air Force blue, Marine red, and Coast Guard blue.
Other ways to celebrate Purple Up! Day:
Ask your local, regional, state, and federal officials to wear purple on Purple Up! Day and post photos on Instagram with #PurpleUp.
Share a captioned photo of your local celebration on the DoDEA Facebook page.
Give kids the opportunity to tell their story about what it means to be a military child through drawings or words.
Suggest companies and businesses ask their employees to wear purple.
Ask schools and teachers to recognize Purple Up! Day. Nearly 80% of military children attend public schools throughout the United States and many are not on military bases.
Involve sports teams. Have sporting event announcers make a special announcement recognizing all military children. Ask them to invite military kids to raise the flag, sing the National Anthem or recite the Pledge of Allegiance.
Request local businesses, stores and restaurants post a Purple Up! message to help educate and involve the general public.
To learn more about activities near you, start your search for events with your local installation Public Affairs office, Military Family Readiness Centers, Department of Defense Dependent School administrative offices, and on-base Child Development Centers. You may also find activities listed at Morale, Welfare and Recreation (MWR) Centers at military installations overseas and stateside. The official sites for all these organizations often post calendars of upcoming events and programs.
Please remember that children bear a uniquely difficult burden as DoD dependents. Even though they often are too young to understand why a parent is deployed or why they must relocate so frequently, military children are expected to support their parents' mission. They must put their own wants and needs second to the call of duty. According to a report by the Department of Defense:
Approximately 2 million military children have experienced a parental deployment since 9/11. Half of them have experienced two or more deployments.
There are currently 1.2 million military children of active duty members worldwide.
The average military family moves three times more often than their civilian counterpart.
There are nearly two million "total-force dependent children" including more than 900,000 Army dependents, 400,000 Air Force dependents, nearly 300,000 Navy and approximately 118,000 Marine dependents.
Look for photos of our USBA employees wearing purple on our Facebook and Instagram pages starting April 10th.
April is also a good time for active duty, retired and honorably discharged veterans to apply for USBA term life protection for their eligible dependent children. Rates start as low as $1.50 a month. By providing this financial protection now, you're teaching your children how to take financial responsibility for their own families later.