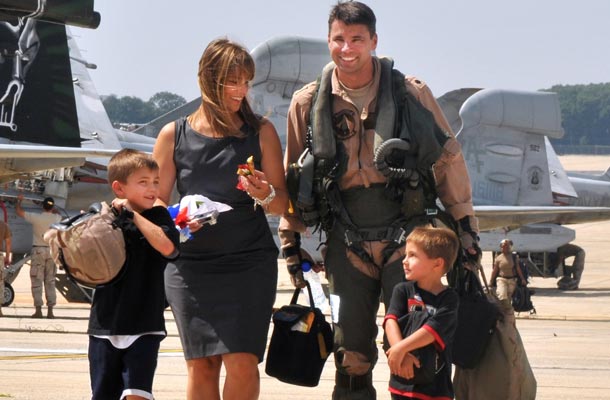 The month of November honors military families who have helped to make our Armed Forces the world's strongest. Military Family Month was established in 1996 by the Armed Forces YMCA, with recognition each year by the Federal government. It's a time to show our country's appreciation for the daily sacrifices by every member of a military family whether their affiliation is through the U.S. Army, Marine Corps, Navy, Air Force, Coast Guard, Reserves or National Guard. Check with your local Morale, Welfare and Recreation (MWR) or Family Services office to learn more about local and national events, as well as services provided year around.
November is also National Family Caregivers Month. It recognizes the more than 44 million caregivers who put their lives on hold to care for their civilian and military family members. Hidden Heroes, spearheaded by the Elizabeth Dole Foundation, provides both assistance and recognition for the more than 5.5 million military and veteran caregivers. According to Campaign Chairman Tom Hanks, "Military caregivers rarely ask for help, but they deserve our support." If you're caring for an injured service member or veteran, or want to support those that do, check out Hidden Heroes. (Note: The Department of Defense 2019 Caregiver Resource Directory also offers resources, organizations, agencies, and programs supporting caregivers of wounded, ill and injured service members.)
In addition, November is Warrior Care Month, focusing attention on wounded warrior programs, activities and stories of remarkable recovery. It's not only about what is being done to help our nation's wounded, ill and injured service members; it's also about what these veterans continue to do for us. As part of the Department of Defense's Warrior Care program, you can access these resources online including the latest Compensation and Benefit Handbook and information about the National Resource Directory.
At USBA, every month of the year is focused on our country's veterans. We provide military group life insurance and other financial services for active duty, separated and retired military. In the past 60 years, we've helped many military families through difficult times.