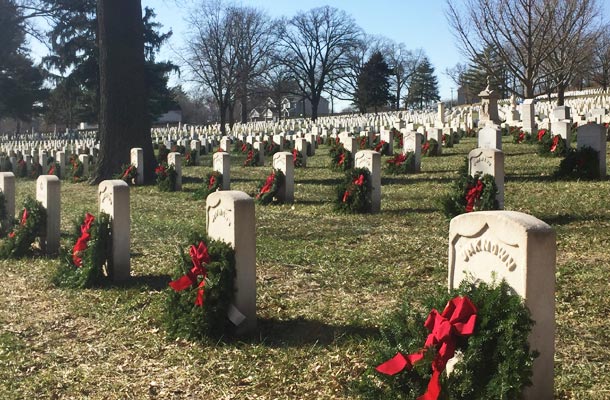 Wreaths Across America (WAA) is a nonprofit organization whose three-part mission is to remember our fallen U.S. veterans, honor all those who serve, and teach our country's children about the value of freedom. The organization's annual laying of wreaths is a meaningful holiday tradition that started in 1992 at Arlington National Cemetery. This tradition has grown to a national day of remembrance that in 2018 saw 1,800,000 wreaths laid on the headstones of our nation's heroes.
This year National Wreaths Across America Day is Saturday, December 14th. This is when thousands of volunteers will place evergreen wreaths on military gravesites in national cemeteries across America. The list includes Arlington National Cemetery and more than 1,600 other locations in all 50 states, as well as at sea and abroad. Find a location near you to volunteer or sponsor a wreath.
USBA staff members will be among the volunteers placing these symbols of everlasting life on veterans' graves at the Fort Leavenworth National Cemetery in Kansas, a short drive from our national headquarters. There are 30,000 gravesites in this cemetery. In addition to volunteering, USBA is sponsoring 500 of the wreaths being laid to honor those who served our country.
"Our employees have great respect for those who serve our nation," says USBA President Colonel Robin A. Snyder, USAF (Ret.). "We feel that this nationwide project is a fitting tribute to our national heroes and is a worthy cause of our corporate support. This is why each year our employees are honored to volunteer their time to lay wreaths and pay tribute to the heroes buried at the Fort Leavenworth National Cemetery. It is a small example of what we stand for each and every day: Armed with Compassion and Dedicated to Service."
USBA is proud of its 60-year history of serving those who serve. For six decades, USBA has provided affordable group life insurance and other financial services to active duty, separated, and retired military members, Federal employees and their families.