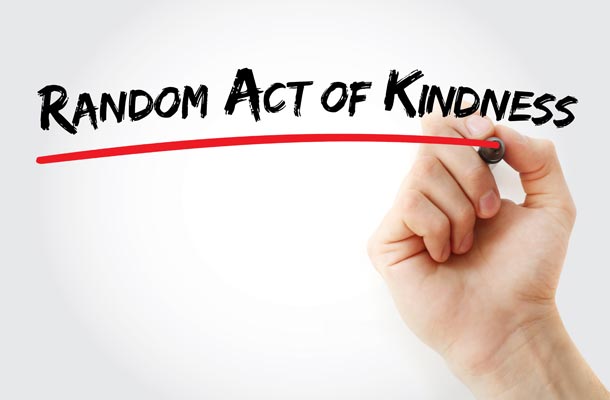 We know being kind to others provides benefits to those on the receiving end, but did you know science can identify how it benefits those who give? With February 17th being National Random Acts of Kindness Day, it's a good time to look at how giving affects those who take the time to be kind.
Just counting your acts of kindness can increase your sense of happiness.
A growing number of psychiatrists and healthcare professionals believe: when you practice kindness you get some surprising rewards. Psychology Today contributors Shoba Sreenivasan, Ph.D., and Linda E. Weinberger, Ph.D., have studied the effects of kindness and find acts of kindness can enhance both physical and mental health.
Performing acts of kindness has been shown to help reduce stress, a contributing factor in many physical ailments. When you are kind to others your own feelings of good fortune and gratefulness are heightened, which in turn increases your happiness level. One study found that one's sense of happiness increased by the simple act of counting the number of one's acts of kindness.
When we practice random acts of kindness it releases our inner positivity. A recent Harvard Medical School report outlines how "Positive emotions have been linked with better health, longer life and greater well-being in numerous scientific studies." Use this link to find out more about the science of kindness.
At USBA we know the benefits of giving back, being involved and supporting those in our communities. That's why we are committed to promoting and living kindness year-round. We are proud to support and sponsor Kansas City based Veterans Community Project (VCP), Wreaths Across America (WAA) and the Greater Kansas City Veterans Career Fair. Each year USBA is an active participant in the United Way of Kansas City's annual donation drive. In addition, our employees organize donation drives to help support such deserving organizations as the Disabled American Veterans (DAV) and our local Great Plains SPCA pet adoption center.
How do you start to reap the rewards of random acts of kindness? It's surprisingly easy. Small things can make a big impact. Whether it's holding a door for someone, letting someone cut in front of you in traffic, taking a minute to stop and chat with a child or elderly person, offering up a smile to a stranger, or helping out a co-worker with a project, any little act of kindness and compassion can make a difference in someone's day. Need ideas and inspiration for spreading kindness? Check out the National Random Acts of Kindness site.