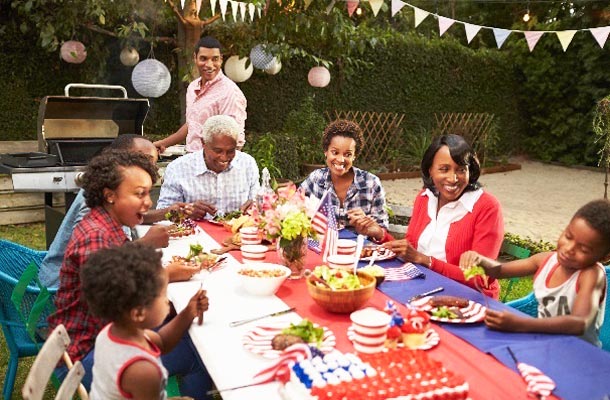 You may be taking extra precautions as you plan your Fourth of July celebrations this year due to the COVID-19 global pandemic. It is just as important to give extra consideration when planning for military family members and guests who are suffering from Post-Traumatic Stress Disorder (PTSD).
Oftentimes, July 4th and all the fun that comes with it poses a challenge for someone suffering from PTSD. For them, our beloved firework-filled celebrations can be anxiety-filled. Unfortunately, PTSD will affect seven to eight percent of the general population at some point in their lives. For veterans, the numbers can be even higher. While PTSD affects each person differently, there are some general precautions you can implement to your holiday plans to make it enjoyable for everyone.
Celebrate with consideration and courtesy
Fourth of July isn't a one-day celebration. Many people celebrate long before and after the actual holiday so it is best to be aware of what may be happening around your friend or loved one and take steps to help early.


Talk to your guests ahead of time to gauge any sensitivities and take those into consideration in your holiday plans. Flashing lights, loud noises and certain scents from fireworks can trigger side effects such as anxiety, flashbacks, and other symptoms.


Consider some alternative ideas to traditional ways of celebrating with fireworks. Get creative on different ways you can celebrate America's birthday. Fireworks do not have to be part of the celebration. Offer to spend the day or spend the night with your loved one. Alternative ideas might include listening to patriotic music, hosting a movie marathon, grill out but eat in, go for a day trip or evening drive instead.


Consider setting a firework curfew where loud firework activity is limited and does not run late into the night. This can help everyone who are sensitive to fireworks.
If you or a family member are experiencing any signs of PTSD, consult your medical provider for guidance. Immediate help for veterans is available by calling 1-800-273-8255 (and press 1), texting 838255, or connecting with a crisis responder online here. Support is free and available to all service members, veterans, and their families and friends.
USBA wishes everyone a happy and safe July 4th.