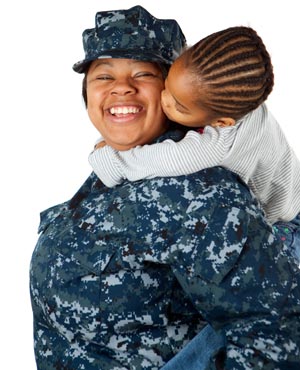 Back in the 20th century, warfare ran on rules of engagement. You had a defined enemy, a clear objective in battle, and a sense of how to calculate the cost of victory.
The same was true of life insurance. You could estimate how much you'd pay for medical care. Even if the worst should happen, you had a ballpark idea how much coverage you'd need in order to insure that your spouse could handle your final expenses and send your kids to college.
Today's conflicts don't obey the old rules of engagement. From political unrest to exotic illnesses to natural disasters, literally anything can rise up to threaten your future. You need to be 110% prepared, 120% of the time. You need to rewrite the rules of engagement in your favor.
You may want to start by supplementing your Armed Forces life insurance. Under the old rules of engagement, SGLI (Servicemembers Group Life Insurance) was probably more than enough for your needs. This low-cost benefit automatically extends $400,000 in coverage to every active member of the Army, Navy, Air Force, Marines, and Coast Guard–as well as many members who are active for training or even active part-time in the National Guard or Ready Reserves. In addition, the VA recently added $100,000 for Traumatic Injury.
Excellent, yes. Adequate? Just maybe. When you consider today's skyrocketing medical and living expenses–and the stresses on the VA's healthcare system for veterans and active military–even $500,000 in coverage may not tip the rules of engagement in your favor.
But not to worry, USBA is here for you. Our Children's Term Life is a solid reinforcement that can make the difference. This low-cost term insurance is designed to protect all your eligible children (unmarried children age 14 days through 22 years) who are not eligible for USBA Membership. The more group life insurance coverage you have with USBA, the more units of Children's Term Life you can purchase for your kids. What's more, the dollar amount of coverage we offer grows along with them.
See Children's Term Life Coverage facts here.
Since 1959 USBA has been serving the needs of military members and veterans like you. We understand just how out-gunned you can feel when you're trying to match wits with a changing world. Sailor, Soldier, Airman, Marine, Coastie—reservist, veteran, or even cadet—we have your reinforcements here.
Questions? We're happy to help! Call us at 877-297-9235 from 8:00 a.m. - 4:30 p.m. Central time, Monday through Friday, for live assistance (or leave a message after hours for a prompt call back).