6/15/2016
Military families visit national parks for free
Planning a summer vacation? The National Park Service turns 100 this summer and military families can join the celebration by visiting America's national parks for free. Annual passes normally cost $80.
Your free annual pass covers entrance to all National Park Service and Fish and Wildlife Service sites that charge entrance fees. It also covers standard amenity fees at Forest Service, Bureau of Land Management and Bureau of Reclamation sites.
To help plan your visit during the Centennial, the National Park Foundation and the National Park Service have launched a Find Your Park website. Use it to help plan your trip and learn about some of our country's most beautiful national treasures.
For starters, did you know there are over 400 national parks? Many are home to preserved historic sites, history-making trails, monuments, and memorials dedicated to celebrating our military history. They include Gettysburg National Military Park, Jean Lafitte National Historical Park & Preserve, the Vietnam Veterans Memorial, the World War II Valor in the Pacific National Monument, and Fort McHenry National Monument and Historic Shrine–birthplace of our national anthem.
Find a park near you. (It could be closer than you think.)
Note: Eligibility for the free annual park pass includes current US military members and their dependents in the Army, Navy, Air Force, Marines, and Coast Guard, as well as most members of the US Reserves and National Guard. Proper military ID is required (CAC Card or DoD Form 1173). If you're a disabled veteran, you may qualify for a free lifetime Access Pass.
Learn more about getting and using your free military park pass.
---
6/1/2016
Honoring America's Heroes-Memorial Day 2016 Recap
For nearly 70 years, Washington, D.C. was without a Memorial Day parade to honor our Armed Forces on this sacred day. In 2005, this changed. The American Veterans Center reinstated the tradition with the National Memorial Day Parade. USBA is proud to be a 4-year sponsor of this popular annual event.
The parade route down Constitution Avenue attracts over 300,000 spectators, along with millions of TV viewers nationwide. It draws on the tradition of Memorial Day parades dating back to just after the Civil War. The parade's mission is to call attention to the true meaning of Memorial Day – honoring our fallen heroes.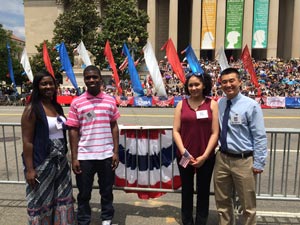 This year, USBA partnered with the Armed Forces Benefits Network (AFBN) to sponsor the Heroes Sweepstakes for active military. The Grand Prize was two exciting-trips-for-two to Washington D.C. with VIP seats at the viewing booth for the May 30th National Memorial Day Parade. This year's sweepstakes winners were Annette Story and Paul Adamo, both U.S. Army. The 2016 parade saluted all active military and fallen heroes from the American Revolution through Afghanistan and Iraq.
To all our country's service members, we thank you for your service … every day.
---
5/25/2016
Honoring the memory of our military veterans
Monday, May 30th is Memorial Day when our country pays tribute to the memory of veterans who have served and sacrificed while protecting our freedom. USBA salutes all American veterans on this special day and every day. You are the backbone of our country.
As part of its commitment to honoring the memory of each veteran and his or her family members, the VA provides memorial benefits many people don't realize are available.
Veterans with a qualifying discharge are entitled to these VA burial benefits in one of the 134 VA national cemeteries or in a private cemetery of the family's choice. Spouses and dependent children are also eligible for memorial benefits, even if they die before the veteran. Learn more here.
As a tribute to our USBA members and all who have served, we have created this special video postcard for Memorial Day 2016. Please feel free to share it with others.
---
5/9/2016
What's the difference between term and whole life insurance?

Do you know the difference between term and whole (also called permanent) life insurance?
Here's a simple explanation to help you make future decisions for financially protecting your family.
For starters, your Servicemembers Group Life Insurance (SGLI) is term life insurance that's automatically issued to all eligible members of the Uniformed Services. Transitioning military members who are covered receive 120 days of SGLI term coverage from their date of separation.
If you are preparing to transition, you may wonder whether you should buy term or whole life insurance to replace your SGLI when it runs out. Here's the difference.
Term insurance is pure protection; it doesn't build cash value. As a result, it's a fairly low-cost option for buying larger amounts of insurance at younger ages. Generally, either the cost increases or protection decreases as you age, when the risk of death is greater. At a predetermined age such as 65 or 80, coverage usually ends.
With term life insurance, you pay premiums for a specified term (ex. 15 years) and receive insurance protection for that time. Depending on your plan, at the end of the term you may have to re-qualify for coverage or renew at a higher rate if you want to continue your protection. If your health has changed, you may not be able to qualify or you may have to pay a higher rate. USBA's Long Term 20 and Smart & Lean 15 plans are examples of term coverage.
Whole life insurance costs more than term, but builds cash value that grows tax-deferred. This cash value can be used in a variety of ways. For example, you can surrender the policy for its cash value, take loans against it, or use it to purchase paid-up insurance. You can keep whole life insurance for the rest of your life—even if your health changes—as long as you pay the premium. The premium and death benefit generally stay the same while you own the coverage.
Whole life coverage can be a good option for those who may not need a large amount of protection, but want guarantees that premiums won't go up and coverage won't end. USBA's Fifty Plus Whole Life plan is an example of whole life insurance.
Whether you decide to buy term or whole coverage, don't leave your family unprotected after you transition. For a free consultation about what will work best for you and your family, call 1-800-368-7021 or contact us online.
---