10/17/2016
USO supports transitioning service members and their families
Most retired and active duty soldiers observing Veterans Day next month have memories of how the USO has positively impacted their lives. Often these memories are tied to a deployment thousands of miles away from home and family. For 75 years, the USO has served men and women in the U.S. military by keeping them connected to family, home and country.
Many don't realize the USO isn't part of the federal government. A congressionally-chartered, private organization powered by volunteers, the USO relies on the generosity of individuals, organizations and corporations for support. Some of its best known volunteers include USO tour entertainers such as Stephen Colbert, Gary Sinise, Toby Keith, and, of course, Bob Hope. Hope first toured with the USO shortly after it was incorporated in 1941. He made his last USO tour at the age of 87, five decades after he first made troops laugh.
In addition to its trademark USO tours and more than 180 USO centers worldwide offering round-the-clock hospitality to soldiers near and far, the USO has special programs for military kids and service members.
The Sesame Street/USO Experience for Military Families is the USO's longest running, free traveling tour for military kids and their families. Final shows for 2016 take place this month. Here's the 2016 tour schedule. The USO also partners with Comfort Crew for Military Kids to send speakers to tour military bases worldwide. The mission is to help military kids ages 6 to 15 become happier, healthier and more confident dealing with military life. Check out the 2016 tour schedule.
The USO Transition 360 Alliance supports soldiers transitioning back into civilian life. This alliance of five top service organizations helps hundreds of thousands of service members and their families start the process of transitioning out of military life each year. It offers free tools and resources to help those leaving the military plan for the future, pursue new careers, and strengthen their families. As with all USO programs, there's no cost for military members.
---
10/7/2016
Medical and travel emergency assistance for USBA members
Traveling around the holidays is very common for military families. What would you do if you needed emergency medical transportation due to heart attack, cold weather related incident or even if you lost a prescription or passport?
USBA's Emergency Assistance Plus (EA+) program provides 24/7 medical and travel emergency assistance on six continents. EA+ offers over 20 travel-related benefits that give solo travelers and vacationing families peace of mind. It delivers stop-gap protection between what traditional medical insurance pays for and travel-related emergency expenses most health insurers never cover.
USBA members receive a special rate and Risk-Free 30-Day Trial. Sign up now.
---
10/1/2016
If you're considering VGLI, read this first.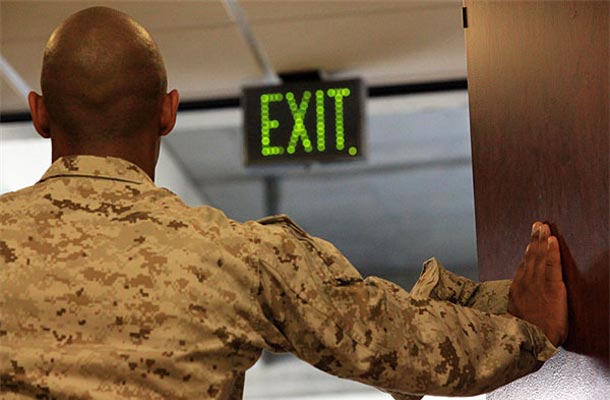 If you're reading this on a computer, tablet or smart phone, you've got everything you need to get an instant USBA life insurance quote – and apply for low-cost veterans life insurance.
USBA life insurance for veterans doesn't require time-consuming paperwork or meeting with a life insurance agent. You can learn about USBA life insurance plans, get a quote and apply–all online. It only takes a few minutes.
If you're leaving the military or have already separated and think Veterans Group Life Insurance (VGLI) is your only option, here are a few of the reasons to consider USBA insurance:
If you don't use nicotine and lead a relatively healthy lifestyle, you could qualify for USBA's lower preferred rates. VGLI rates are based strictly on age; good health gets you nowhere.
USBA gives you a choice of term and permanent veterans life insurance plans to fit your family's needs. VGLI offers only one term life insurance plan.
Each USBA Certificate of Insurance issued comes with a 30-Day Unconditional Promise: If you aren't completely satisfied with the provisions of your Certificate, you can return it within 30 days, without claim, for a prompt, full refund. VGLI doesn't do this.
USBA is a nationally recognized non-profit organization dedicated to serving post-separation military families. We provide low rates and coverage choices you won't find through VA life insurance.
Call us today at 877-297-9235 from 8:00 am to 4:30 pm CT, Monday through Friday, to talk about your choices. (Or leave a message after hours for a prompt call back the next day). You can also contact us online.
---
9/29/2016
Need help selecting life insurance?

Choosing the right life insurance doesn't have to be overwhelming or scary. You can do it yourself right now. Just follow these 4 easy steps to find the right life insurance plan to fit your family's needs and budget.

Step 1: Estimate how much life insurance you need.
Use this handy free Life Insurance Estimator to gain an understanding of how much life insurance you should have. The more specifics you know about your current financial situation, the more accurate your estimate will be.

Step 2: Term or whole life insurance?
When you're shopping for military or veterans group life insurance for your family, the first and most important decision you'll make is whether to buy term or whole life insurance. How do you know which is right for you? It depends on how long you plan to keep it and what you expect it to do for you. Use this Plan Recommender to help you decide.

Step 3: Get a free rate quote.
When you're ready, you can get a free rate quote for USBA life insurance right here. There's no obligation to buy anything. This is information you can use to help with budgeting.

Step 4: Ready to buy? Apply online.
You can apply for USBA group life insurance from your home or wherever you are. Apply online.

Want more information? Request a Free Info Packet for any of our USBA group life insurance plans designed for both active duty and veteran members of all branches of the armed forces including the Army, Navy, Air Force, Marines, Coast Guard, National Guard and Reserve, and their families.

Questions? Email us or call to talk with a friendly and knowledgeable Product Specialist. Call (877) 297-9235 from 8 am – 4:30 pm (CST), Monday through Friday, or leave us a message after hours for a prompt call back.
---