4/15/2016
Beware of phishing scams targeting veterans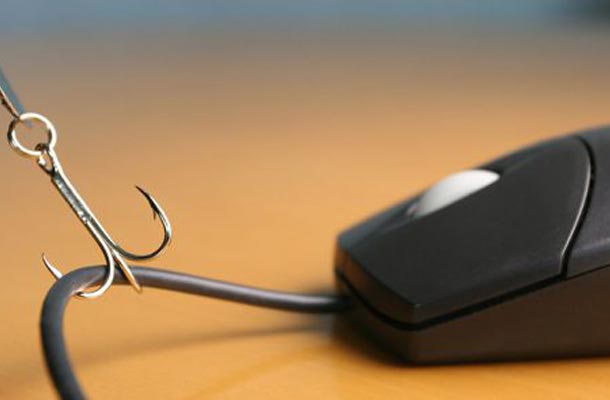 Veterans, be aware. Recently, there's been a sharp increase in reports of email phishing scams that target veterans, especially those in the process of transitioning into civilian careerss
Sometimes, the emails offer fake job interviews conducted via Skype or Google Plus. During the interviews, scammers try to gather Social Security numbers or bank account information. Some emails even appear to come from highly reputable employers. Often they mention having gotten veterans' contact information from a Department of Veterans Affairs career site, the Veterans Employment Center on Vets.gov.
According to the VA, none of these emails are connected to the VA and there's no indication scammers have actually viewed veteran profiles on the VA job site. These are phishing scams. They are fraudulent attempts to gain critical personal information from veterans who are transitioning out of the military.
How do you know if you've received a phishing email and what should you do if you receive one?
The VA reminds veterans that neither Vets.gov nor the Veterans Employment Center will ever ask users for their personal information. If you do receive a suspicious email, report it immediately to the VA's Identity Safety Service.
If you think you've been the victim of identity theft, call the toll-free Identity Theft Resource Line at (855) 578-5492, Monday-Friday from 8 a.m. to 8 p.m. EST. You can also email us here.
Visit here for more information about how to protect your identity online.
---
4/1/2016
A salute to all our military kids
It's time to recognize the patriotism and sacrifice of our military's youngest members – those courageous children with parents serving in the U.S. Armed Forces. Since 1986, the Department of Defense has honored military children, their courage and contributions by observing April as the Month of the Military Child.
Please join us in saying thank you to these children for their many sacrifices and their support of their military parents. Here are some resources that can help you support them as they face their unique challenges.
Military Youth on the Move provides videos, articles and other resources to assist military kids of all ages deal with the challenges of frequent moves, changing schools and saying good-bye to friends.
Courage to Talk offers advice on how and when to talk with a child about an injured parent.;
Military Kids Connect® is an online community for military children ages 6-17 that provides access to age-appropriate resources for dealing with the psychological challenges of military life. Resources include educational activities, fun games, helpful videos, and an online community that helps build and reinforce a military child's resilience and coping skills.
Camp C.O.P.E. provides military families with an unforgettable weekend at camp, free of charge. Its mission is to help military kids ages 4-18 cope with the transitions they face in response to deployment, injury or loss of a family member serving in the U.S. military. Read the story of this not-for-profit started by a military mom and wife.
For more resources, do an online search or contact your nearest MWR office.
---
3/15/2016
Calling all artists–enter the 2016 Veterans Day Poster contest
Do you know any military or civilian artists? Tell them the National Veterans Day Poster Contest is accepting artwork submissions for the 2016 poster design. The deadline is Friday, April 15th, 2016. Final selection will be made in May. Here are the guidelines to follow.
Since 1978, the annual Veterans Day Poster has been displayed in VA facilities and military installations worldwide as a grateful salute to our veterans, their courage and their sacrifices. Here's an opportunity for you or someone you know to showcase your talent as well as your pride in our military.
To view past winners, visit the Veterans Day Poster Gallery.
To get inspired, read the story of how Veterans Day started.
Veterans Day continues to be observed on November 11, regardless of the day of the week on which it falls. In 2016, November 11th will be on a Friday. In times of war and in times of peace, we say thank you to all who serve and who have served.
---
3/1/2016
New Deadlines! Tax time is just around the corner
It's time to get organized for filing your 2015 taxes. The year's filing deadline is Monday, April 18. Why the change from April 15th? Emancipation Day—a Federal holiday—is being observed on Friday, April 15th, and all federal offices (including the IRS) will be closed. If you file in Maine or Massachusetts, your deadline for filing is Tuesday, April 19, 2016.
Want free assistance preparing your taxes? The military-based Volunteer Income Tax Assistance program (VITA) offers free tax advice and preparation, return filing, and other tax assistance to military members and their families. VITA is sponsored by the IRS and available on most large military installations worldwide. VITA tax preparers are trained by the IRS to help with complicated military-specific issues such as combat zone benefits and tax law changes that could benefit military families.
To locate VITA services near you, contact your legal assistance office.
Here's what you'll need to take with you to the military VITA site:
Photo ID
Social Security cards for the taxpayer, spouse and dependents
Birth dates for you, your spouse and dependents on your tax return
Wage and earning statements (W-2, W-2G and 1099-R forms) from all employers
Interest and dividend statements from your banks (1099 forms)
Bank routing numbers and account numbers for direct deposit
Receipts for charitable donations
Last year's state and federal returns, if available
Other relevant information about income and expenses (e.g. total amount paid for day care, day care provider identifying number, tax ID or Social Security number)
Even if you decide to prepare your own tax return, you can take it to a military-affiliated VITA center to have a VITA preparer review it at no cost. Not only are VITA volunteers IRS trained, they get special training and continuous support through the military legal assistance establishment.
---
2/15/2016
Protect your right to transfer your GI Bill with current benefits
The U.S. House and Senate are currently working on legislation (H.R. 3016, Sec. 301) increasing the time you are required to serve to be eligible to transfer your GI Bill to your spouse or children. The proposed increase is from six to 10 years.
Even if you think your spouse or children will never use this benefit, you should consider making the transfer now if you're currently eligible. Why? This gives you and your family the flexibility to use the benefit as it stands today—no matter what gets signed into law.
Keep in mind, if you transfer your GI Bill now and change your mind later, you can take it back. Transferring is not a permanent decision. However, if you wait until after legislation is passed, you'll be required to follow the new requirements and provisions.
In addition to changing the length of service required, the proposed legislation eliminates the ability for children who have been transferred a parent's GI Bill to receive the entire Basic Allowance for Housing (BAH) payout. Instead, they'll receive only half the amount. That's a 50% cut in benefits. Transferring your GI Bill now entitles them to full BAH payout, even if the bill passes.
According to proposed legislation, those who have transferred the benefit before 180 days after the legislation is signed into law will get to use it as it currently stands. Don't wait; do it now while you're thinking about it. Find out more about making the transfer here.
(Photo: MCSA Wyatt L. Anthony/Navy)
---