7/1/2015
Important DD 214 information for military veterans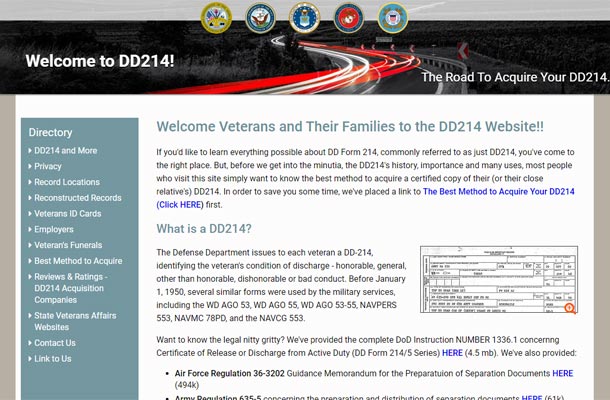 In the past, military service departments, Veterans Affairs, and other organizations routinely advised veterans and separating service members to file their DD 214 (Report of Separation from Active Military Service) with a public facility responsible for safekeeping documents. The belief was having a DD 214 filed at the county clerk's office or courthouse would make it easy for the service member to get a copy if one was needed. If you are a veteran who has done this, you need to be aware you could be inviting identity theft or other serious safety concerns.
Today, having your DD 214 filed in a public facility may put you at risk for identity theft or fraud. Some of these facilities have poor or nonexistent security giving indiscriminate access to filed documents. Since your DD 214 contains personal information such as name, birth date, social security number, and address along with a record of military training, this information can be used in financial scams or fraudulent ID cards. Your DD 214 also provides information about which bases you served on and what your MOS was, making you a potential target for foreign agents seeking U.S. military information.
If your DD 214 is filed in a public facility, make sure it's safe and secure—or remove it from the facility. When you need a copy of your DD 214 to apply for veterans benefits, you can visit the National Archives and Records Administration here and submit your request online with eVetRecs. Or call (866) 272-6272 TOLL FREE.
---
6/15/2015
Military families get FREE annual pass to national parks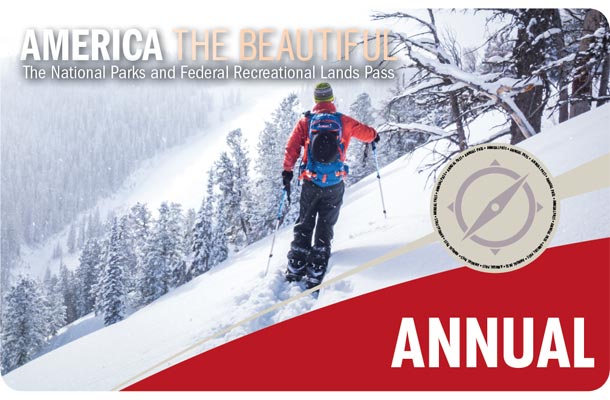 Planning a summer trip to the Grand Canyon, Yosemite, Yellowstone or one of America's other national treasures? Make sure to get your free military pass. It normally costs $80.
Members of the U.S. military are eligible for this free annual pass good at over 2,000 locations managed by the National Park Service, the U.S. Fish and Wildlife Service, the Bureau of Land Management, the U.S. Forest Service and other federal agencies. Sites include our country's famous national parks, wildlife refuges, forests and monuments that normally charge entrance fees. Get free pass information here.
Eligibility includes members of the U.S. Army, Navy, Air Force, Marines and Coast Guard, as well as most members of the U.S. Reserves and National Guard. Simply show your Defense Department identification (CAC Card or DoD Form 1173) at any Federal recreation site to receive the free pass.
If you're a disabled veteran, you may qualify for a free lifetime Access Pass.
Before you head out the door, join USBA's Emergency Assistance Plus (EA+) program and get a special member-only rate. EA+ provides you and your family with 24-hour emergency travel assistance and more than 20 additional travel benefits. Sign up now for a Risk-FREE 30-Day Trial.
---
6/1/2015
Military Smokers: Get help quitting
Tobacco use is taking an enormous toll on the health and physical fitness of active duty U.S. military and veterans. About 1 in 4 people in the military smoke compared with 1 in 5 in the general population.
If you're a TRICARE beneficiary ready to enjoy a healthier smoke-free lifestyle, there's a free program to help you quit smoking. It's the Freedom Smoking Quitline.
Many smokers in the military want to quit smoking, but fail when they try on their own because of nicotine's addictive power. This program has your back. If selected for participation, you'll receive 8 weeks of free nicotine replacement therapy (NRT) mailed to your home, plus 4 private telephone counseling sessions with your own smoking cessation counselor. If you're still smoking after 3 months, you'll be eligible for additional counseling and free nicotine patches or gum.
Those eligible to apply to participate include active duty and retirees of the U.S. Army, Navy, Air Force, and Marines, as well as their dependents. Learn more about participation requirements and how to apply.
The use of tobacco affects military readiness, as well as the health of both smokers and non-smokers. It's also a significant financial burden on the U.S. Department of Defense (DoD) and Veterans Affairs (VA) healthcare systems. Do your part and quit. The Freedom Smoking Quitline is a research study funded by the National Heart, Lung, and Blood Institute of the National Institutes of Health and is co-sponsored by the U.S. Air Force and University of Tennessee Health Science Center.
---
5/16/2015
FREE white paper helps military transitioners in job search
If you're transitioning from the military service and looking for a civilian job, you've probably read a lot about writing a resume and going on job interviews. But once you start getting job offers, how will you choose the job that best fits your short- and long-term goals? In most cases, it's not just about money.
USBA's new white paper, "Critical Questions to Ask When Opportunity Knocks," features 25 questions to help you evaluate job offers as you receive them. Sign up at the USBA Military Jobs Center so you can download this free white paper. Then you can print as many copies of the Job Offer Evaluation Form as you need.
The USBA library of job search white papers is just one of the free resources available to those leaving the military looking for civilian jobs. For additional help with your search, visit USBA's job center partner — Orion International. Orion is the country's largest military placement agency that has helped over 25,000 veterans like you find new civilian careers. Their resources and job placement services are 100% free of charge.
USBA is also here to help you find affordable life insurance to replace your SGLI. Remember, your SGLI ends 120 days after you separate from the military. You don't want to have a gap in your family's protection. Use our free Life Insurance Needs Estimator to get started.
---
5/1/2015
May is the 16th annual Military Appreciation Month
May is National Military Appreciation Month! USBA joins our nation in saluting YOU who serve and have served in the U.S. Army, Navy, Air Force, Marines, and Coast Guard. Know that you are appreciated every day of the year.
May holds many special days set aside for commemorating our military's achievements and celebrating those who serve. These observances include:
Loyalty Day: Friday, May 1, 2015
Our country sets aside this day to reaffirm our loyalty to the United States and reflect on the proud heritage of our American freedom.
Public Service Recognition Week (PSRW): Sunday, May 3 – Saturday, May 9, 2015
During the first week in May, we honor the men and women serving our country as Federal, state, county and local government employees.
Victory in Europe Day (V-E Day or VE Day): Thursday, May 9, 2015
While May 8th, 1945, was the day the Germans unconditionally surrendered to WW II Allies, the Allies agreed to mark May 9th, 1945, as V-E Day.
Military Spouse Appreciation Day: Friday, May 8, 2015
Traditionally the Friday before Mother's Day, this is the day we honor military spouses and recognize the important role military families play in keeping our Armed Forces strong and our country safe.
Armed Forces Day: Saturday, May 16, 2015
Celebrated each year on the third Saturday, this day honors those serving in all U.S. Military branches—U.S. Army, Navy, Air Force, Marines, and Coast Guard.
Memorial Day: Monday, May 25, 2015
A Federal holiday, Memorial Day is observed the last Monday in May as a day of remembrance for our veterans. It also honors all the men and women who have died while serving their country.
When you have the chance, visit your local schools and help bring military history to life for our country's youngest citizens. Give them the opportunity to visit with you, learn about your service to our country, and put a name and face with the term "U.S. military."
---
4/15/2015
Why now is the time to buy a home with a VA Loan
Your service to our country makes you eligible for a variety of valuable veterans' benefits. For example, the U.S. Department of Veterans Affairs helps active duty service members, veterans, and eligible surviving spouses become homeowners.
The VA provides a home loan guaranty benefit and other housing-related programs that can help you buy, build, repair, retain, or adapt a home for your own personal use. These benefits can be helpful for transitioning military who want to become first-time homeowners.
Here's how it works. VA Home Loans are provided by private lenders, such as banks and mortgage companies. The VA guarantees a portion of the loan, enabling the lender to provide you with more favorable terms. Here's why now may be the right time to lock in a low rate with a VA Loan.
You don't need a 20% down payment.


Interest rates are at near record lows.


You can refinance without re-qualifying.


You don't have to pay for private mortgage insurance (PMI).


You can get home financing of up to $417,000.
Learn more about the benefits of getting financial help from the VA. You earned it; now use it!
---
4/1/2015
Military Children Serve, Too!
April is Month of the Military Child. Established in 1986 by the Department of Defense, it's an opportunity for all of us to thank our children and our military friends' children for their sacrifice and support of their military families.
Our country's strength is built on the readiness and resilience of every member in the military—including our family members. Our men and women in uniform can't focus on their missions and challenges ahead if they're concerned about their children at home. By supporting a safe and nurturing environment for our military children, we create a stronger, more resilient fighting force.
Join us this month in saying thank you to our kids. If you're looking for resources to help you, please check out these online resources:
Courage to Care to Talk … About War Injuries.
Military Families Near and Far (with Sesame Street).
Operation Purple Camps® (applications open through April 6, 2015).
When Families Grieve™ (with Sesame Street).
For more information on activities in your area, do an online search or contact your nearest MWR office.
From deployments to frequent moves, military children face challenges most kids their ages never experience. USBA recognizes and applauds the courage of our military children. Their future is what we are supporting.
---