10/17/2014
Honoring deployed service members and their families

Sunday, October 26th marks the fourth annual observance of National Day of the Deployed.
With recent international developments, it's more important than ever that our deployed military service men and women and their families know that we stand with them and support them.
According to Patti Patton Bader, one of the first to recognize the deployed service member, "Day of the Deployed is a day to honor the many selfless actions demanded of military members and their loved ones across the globe. It serves as a tangible reminder of the sacrifice being made in homes across America every day. Every deployment reflects the deep commitment of not only the deploying member, but of the many friends and loved ones who are left behind to aid in answering our nation's call."
What can you do to support deployed friends, family and total strangers who risk their lives daily for our freedom?
For the families serving at home, the smallest things often matter the most such as a few kind words of encouragement, a personal note, a shared meal, or an offer to help in any way.
For those deployed, the USO has many ways to help you show your support. You can use this USO online tool to send a message of thanks to our troops. If you know a deployed soldier in need of free prepaid international phone cards to call home, check out USO Operation Phone Home™. Plus, the USO Photo Book program helps you create and send a 5x7 photo book to any service members stationed abroad—entirely free. Books hold more than 60 photos and fit in a soldier's cargo pocket.
Many other not-for-profit and volunteer organizations provide other opportunities to help us stay connected with our deployed military. Here are just a few: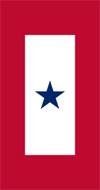 An online search provides other opportunities for supporting deployed troops and their families. The most important thing this October 26th—and every day of the year—is for those who serve outside our country's borders to know they have our full support.
We salute all those displaying the Blue Star Flag authorized by the Department of Defense for display by families who have members serving in the Armed Forces during any period of war or hostilities the United States may be engaged in for the duration of such hostilities.
---
10/2/2014
Leaving the military? Make sure you meet MEC or it could cost you
Transitioning from military active duty to civilian status may have you wondering what will happen to your health care. Transitioning military families have options.
Keep in mind that before you leave active duty status, you need to be proactive about ensuring you and your family have health care that meets minimum essential coverage (MEC) as required by the Affordable Care Act. If you don't, you may have to pay a fee for each month you're not covered.
The first program available to transitioning military and their families is the Transitional Assistance Management Program (TAMP). This program offers 180 days of premium-free transitional health care benefits and begins the day after you separate from active duty. TAMP eligibility is determined by the services and reflected in the Defense Enrollment Eligibility Reporting System (DEERS). For more information, visit here.
After TAMP eligibility ends, or if you're not eligible for TAMP, you may be eligible for the Continued Health Care Benefit Program (CHCBP). This is another transitional health care option for transitioning military and their families. This program allows beneficiaries to continue health coverage by providing 18 to 36 months of temporary premium-based coverage. For more information about CHCBP, check it out here.
Whether you're using TRICARE Prime, TRICARE Standard or the US Family Health Plan, leaving active duty requires planning, so don't forget to plan ahead for your health care. Remember, if you don't have minimum essential coverage, you may have to pay a fee for each month that you aren't covered after leaving active duty. For more information about TRICARE plans that meet MEC, visit here.
One more reminder. Your SGLI life insurance ends 120 days after your last day of service. As with your health coverage, you'll want to find affordable life insurance protection to replace it.
---
9/15/2014
Get military discounts on consumer goods, tactical gear, sports events and more
Have you heard about GovX.com? It's a money-saving website for those of us who are serving or have served our country. Because you're active, reserve, veteran, retired or transitioning military (or a dependent), you can sign up for GovX online and qualify for the lowest prices on the web for 300+ popular brands. Get instant access to over 50,000 products and event tickets at well below retail.
More good news—GovX membership is free! You can sign up online in just a few minutes.
GovX membership gives you discounted access to premium brands such as Ray-Ban, Champion, ProFlowers, Zippo, Sony, 5.11 Tactical, Nike, Adidas, Garmin and hundreds more. You'll also pay less for tickets to watch your favorite professional sports teams, concerts, stage shows and more. Plus, GovX members qualify for discounts from Uber, Match.com and OurTime.com.
GovX membership is available exclusively to those who are serving or have served in the U.S. Air Force, Army, Coast Guard, Marines, Navy and National Guard, as well as our nation s first responders and employees of other government-related agencies. Check it out.
---
9/4/2014
Who Do You Protect? Show us and you could win $500
This September during Life Insurance Awareness Month, we're asking you to join us in a very important mission. It could put $500 cash in your pocket.
Help us get this important message out to all military families: Life insurance isn't for the person buying it. Life insurance is for those you love and want to protect.
Spreading the word is fun, easy and could win you a cash prize. Just select a cute photo of your own loved ones, write a caption, then enter it in our #WhoIProtect photo contest. There are 3 ways to enter:
Enter directly on our Facebook contest page here.
Upload your photo on Twitter using the hashtag #WhoIProtect and "USBA" in your post.
Sign in to your Instagram account and post the photo to your page with the hashtag #WhoIProtect and "USBA" in your description.
Encourage your friends and family to vote for your entry on Facebook by sharing your entry via Facebook during the voting period. The Grand Prize photo receiving the most votes wins $500 and will be featured as the USBA cover photo! Two runners-up will each receive $250.
Important dates:
Photo entries accepted Friday, September 5 thru Friday, September 19, 2014.
Facebook voting is from Saturday, September 20 thru 11:59 CST, Tuesday, September 30, 2014.
Winners will be selected on Friday, October 3, 2014.
See official photo contest rules. Make sure to LIKE and FOLLOW us on Facebook.
---
9/1/2014
2014 USBA scholarship winners head to college
Congratulations to this year's Dietrich Memorial Scholarship winners who are starting college this fall with financial assistance from USBA.
Andrew Hurst of Indiana is majoring in biology at Yale University. Andrew is the grandson of Norman Beesley, a Commander in the Navy and USBA member since 1972.
Brianne Hoglin of Colorado is attending Lipscomb University with a major in Exercise Science/Physiology. She is the granddaughter of Richard Hoglin, an Air Force Major and USBA member since 1989.
Andrew and Brianne were selected as recipients of the 2014 Dietrich Memorial Scholarship based on their academic achievements, leadership accomplishments and community service. This scholarship is awarded annually to deserving graduating high school seniors who are children or grandchildren of USBA members in good standing.
Now in its 24th year, this non-renewable $2,000 college-assistance grant was established in memory of former USBA Executive Director and President, the late Maj Gen William Dietrich, USAF (Ret.). General Dietrich was a charter member of USBA which was founded in 1959. Dietrich was elected to the Board of Governors in 1972 and served as USBA President from 1985 until his death on December 18, 1989. He previously had served as Executive Director.
Do you have a child or grandchild who is a senior in high school? The 2015 scholarship application is available here and must be submitted by your college-bound graduating senior no later than March 31, 2015.
---
8/15/2014
Life Insurance for Military: Which of these apply to you?

At USBA, we help active, retired, and transitioning military find the right life insurance protection for their
needs. Here are the 10 reasons to consider trusting USBA with life insurance to protect your family. Which applies to you?
You're about to leave the military and your SGLI life insurance will end 120 days after your last day of service. You want to find affordable protection to replace it.


You've already transitioned from the military and now the SGLI clock is ticking. You're on a mission to find affordable life insurance from a provider you can trust so there's no gap in your family's protection.


You're still on active duty in the Army, Navy, Marines, Air Force or Coast Guard, but you need more than the SGLI maximum of $400,000. USBA coverage is portable; you can keep it in and out of the service.


You want to supplement your SGLI with portable insurance you can keep no matter how many times you change jobs in civilian life.


You're looking for military-friendly coverage that includes an Emergency Death Benefit that can pay your spouse beneficiary an emergency payment of 50% of the proceeds (up to $15,000) on telephone notification of your death. This can be very helpful at a time when other money may be tied up for your family and hard to access.


You've recently remarried and now have additional financial responsibilities for your blended family.


You've recently married and you now have more than just yourself to think about.


You're over 50 and you want permanent lifetime coverage with cash value and guarantees.


You and your spouse have a new addition in your family and you want to make sure there's money for college should something happen to you.


You want to make your own insurance decisions in the privacy of your home. But you'd also like to know you can talk with someone knowledgeable about your choices, someone who understands the unique needs of those who serve in the military.
USBA stands ready to assist you and your family. Get a free quote online—there's no obligation. Or call 1-877-297-92365 to get answers to your questions.
---