5/20/2020
USBA marks Memorial Day 2020 in a memorable way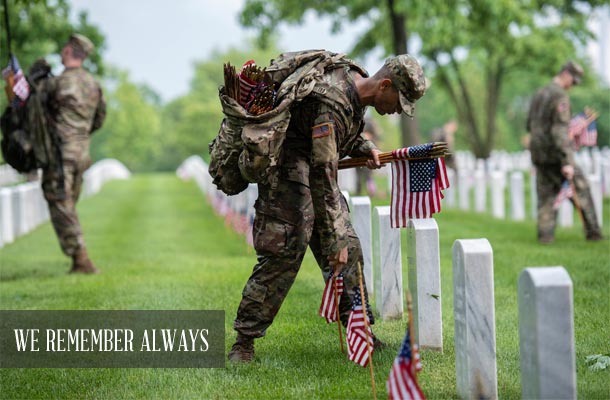 While many Americans think of Memorial Day as a day of picnics, outings and parades, the meaning goes much deeper for the families of our fallen soldiers, airmen, Marines, Coast Guard and sailors. It's a time when our country pays tribute to veterans who died while serving in the military service, particularly those who have died in battle.
The making of a national day of remembrance.
In 1971, Memorial Day was declared a national holiday by an act of Congress and was placed on the last Monday in May. However, Memorial Day actually began many years before, following the end of the Civil War.
Originally called Decoration Day, and observed on May 30th, this day of remembrance began with both formal and informal ceremonies to decorate the graves of soldiers who had fallen in battle during the Civil War. The first large observance was held in 1868 at Arlington National Cemetery.
This custom has continued through the years with the placing of flags and flowers on military graves across the Nation. It was not until after World War I, however, that the day was expanded to honor those who have died in all American wars.
This year, Memorial Day falls on Monday, May 25th. In honor of this veteran-focused federal holiday, USBA continues our tradition of commemorating Memorial Day by sharing an electronic postcard in remembrance of the men and women who made the ultimate sacrifice for their country.
---