4/16/2018
Tips for military family travel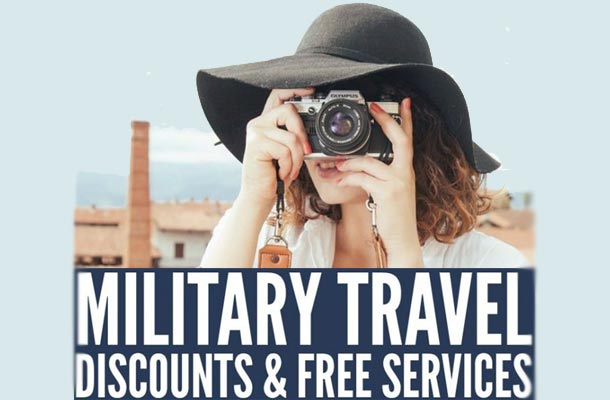 Is there a trip in your future? Whether you're making a PCS move, traveling to an overseas duty station, or organizing a family vacation, these military travel tips can help you plan the perfect trip.
Budget ahead. Big costs like airplane tickets and car rentals are obvious, but remember to budget for smaller expenses that can add up quickly. These include checked baggage fees, airport parking, pet care, meals and snacks, and other easily overlooked expenses.
Get traveler's insurance. Look into different types of travel insurance. Some plans cover trip cancellation or changes in travel due to weather or airline delays. USBA members can sign up for Emergency Assistance Plus (EA+). It offers 24-hour emergency travel assistance for medical emergencies and over 20 additional travel benefits. USBA members get a special rate and risk-free 30-day trial.
Lounge during layovers. Many major U.S. air hubs have USO lounges. Seattle, Washington, D.C., and Boston are just a few of the places where troops and families can rack out between flights. USO airport lounges are typically staffed 24/7 by volunteers and offer free snacks and drinks, clean bathrooms and a place to recharge tech toys. Some lounges even have showers and a luggage room.
Keep your receipts. When you're traveling on a PCS, the military will reimburse the cost of lodging, fuel, and moving supplies. However, you'll need a receipt for each when requesting reimbursement. Keep your receipts in a designated envelope.
Save on lodging. Here are 3 ways military families can sleep for less. (1) Stay in base lodging at military bases across the country. Every base has a hotel for service member families. Priority is given to those PCSing or on a school assignment, but there are often additional rooms available. (2) Active duty families also get free access to National Parks, perfect for a summer vacation or warm-weather PCS move. You may need to pay a small fee to reserve a campsite, but that's still less than a hotel. (3) Check out Armed Forces Vacation Club. Club membership is free and open to active duty, National Guard, Reserve and retired members of the Armed Forces. Stay at vacation destinations around the world, including popular $349/week Space-A stays.
---
4/4/2018
Purple Up! for U.S. military children
April is Month of the Military Child (MOMC) when the DOD encourages Americans to honor the contributions and sacrifices of our military kids.
At the time of a 2015 Defense.gov report, the U.S. had nearly 2 million "total-force dependent children." This included over 900,000 Army dependents, 400,000 Air Force dependents, nearly 300,000 Navy and approximately 118,000 Marine dependents. More than 2 million children have had a parent deploy since 9/11 with half of them experiencing 2 or more deployments.
These resilient sons and daughters stand by their military parents through frequent moves, deployments and other stressful challenges unique to military life. That's why MOMC was established in 1986 by Secretary of Defense Casper W. Weinberger. He realized we weren't recognizing the sacrifices our military children have to make. Weinberger saw military kids as inspirational in how they cope with difficult situations including changing schools and leaving friends every 2 or 3 years.
As part of MOMC, April 18 (date may vary locally) is designated as "Purple Up! For Military Kids Day." You're encouraged to show support for our military children by wearing purple.
Although April is official MOMC, many organizations provide year around resources to support our military children:
The New Parent Support Program helps parents and expectant parents develop skills needed to provide a nurturing environment for kids experiencing the challenges of military life.

Military One Source is available 24 hours a day, 7 days a week—online and by phone—to help military families with challenges they face from teen dating and fighting obesity to dealing with child abuse and drugs.

4-H Military Partnerships help military children develop life skills through activities sponsored by the 4-H Club program.
Please join USBA in saluting and supporting our country's youngest military heroes. Dad or Mom may wear the uniform, but these brave youngsters serve right alongside them.
---
3/1/2018
Thousands of disabled military veterans due special tax refunds
If you're a veteran who received disability severance pay after January 17, 1991, you may qualify for a special federal tax refund. In February 2018, the Department of Defense (DOD) has started notifying over 133,000 veterans who may have been wrongly taxed as far back as 27 years ago.
Refunds totaling an estimated $78 million in wrongly withheld taxes will be paid in accordance with the 2016 Combat Injured Veterans Tax Fairness Act. This law ensures veterans suffering service-ending combat-related injuries aren't taxed on the one-time lump-sum severance payment they received from the DOD.
According to the National Veteran's Legal Services Program (NVLSP), the Department of Finance and Accounting Services incorrectly withheld about $78 million in taxes from veterans' disability severance pay. The amount of individual refunds will vary based on rank and years of service, but it's estimated some veterans may have been taxed as much as $11,000.
The DOD is notifying eligible military veterans by mail. Veterans have one year from time of notification to file a claim. Notification includes the amount of taxes improperly withheld and instructions for filing an amended tax return to recover money owed the veteran.
If you need help filing an amended return or doing your regular taxes, contact Military One Source or call 1-800-342-9647. You may also qualify for tax preparation assistance through the Volunteer Income Tax Assistance (VITA) program. Find a VITA site near you.
---
2/16/2018
USBA Military Families: $2,000 scholarship applications available
Did you know average in-state tuition at a public university in 2016-17 was $9,650? Total tuition, fees, room and board were $20,090.* With college costs at an all-time high, USBA members with college-bound high school seniors should check out the William A. Dietrich Memorial Scholarship. Your student may be eligible to apply for this $2,000 award from USBA. Deadline for applying is Saturday, March 31, 2018.
USBA, a non-profit association that provides life insurance for military members and federal employees, awards this $2,000 non-renewable grant each year. The money helps deserving students pay for tuition, room and board at the recipient's college or university of choice. The 2017 William A. Dietrich Memorial Scholarship recipient was Raylani Reis of Miranda, California, daughter of Aletta Sauer, a retired lieutenant in the United State Navy and member of USBA since 1991.
For 28 years, the Dietrich Memorial Scholarship has honored former USBA Executive Director and President, the late Maj. Gen. William A. Dietrich, USAF (Ret.). The scholarship is awarded annually to at least one graduating high school senior who is a child or grandchild of a USBA member on active duty, retired or separated from any branch of the military service or working as a Federal employee.
With a college-bound student in the family, now's also a good time to review your veterans life insurance to make sure it still covers everything you originally intended, including college. Use this estimator to help.
USBA offers affordable group life insurance for military families, as well as those of federal employees.
*Current cost of college tuition.
---