2/16/2018
USBA Military Families: $2,000 scholarship applications available
Did you know average in-state tuition at a public university in 2016-17 was $9,650? Total tuition, fees, room and board were $20,090.* With college costs at an all-time high, USBA members with college-bound high school seniors should check out the William A. Dietrich Memorial Scholarship. Your student may be eligible to apply for this $2,000 award from USBA. Deadline for applying is Saturday, March 31, 2018.
USBA, a non-profit association that provides life insurance for military members and federal employees, awards this $2,000 non-renewable grant each year. The money helps deserving students pay for tuition, room and board at the recipient's college or university of choice. The 2017 William A. Dietrich Memorial Scholarship recipient was Raylani Reis of Miranda, California, daughter of Aletta Sauer, a retired lieutenant in the United State Navy and member of USBA since 1991.
For 28 years, the Dietrich Memorial Scholarship has honored former USBA Executive Director and President, the late Maj. Gen. William A. Dietrich, USAF (Ret.). The scholarship is awarded annually to at least one graduating high school senior who is a child or grandchild of a USBA member on active duty, retired or separated from any branch of the military service or working as a Federal employee.
With a college-bound student in the family, now's also a good time to review your veterans life insurance to make sure it still covers everything you originally intended, including college. Use this estimator to help.
USBA offers affordable group life insurance for military families, as well as those of federal employees.
*Current cost of college tuition.
---
2/2/2018
Life insurance: A unique Valentine's Gift
While roses and chocolates are traditional Valentine's Day gifts, they only last a week or two. If you want to give something that's both meaningful and long lasting, consider the gift of life insurance. Some call it love insurance.
Giving your loved ones the kind of financial peace of mind that can come with adequate life insurance says "I love you" today and into the future. After you're gone, it can provide financial support that could mean the difference between your loved ones having to make dramatic changes in their lifestyle and realizing their dreams for the future. Here's one family's first-hand experience.
Even if you have SGLI, is it enough life insurance for military life and beyond? Would it cover living expenses, medical bills, credit cards, child care, car payments, even college costs? Portable group life insurance is yours to keep no matter how many times you change jobs. Keep in mind, SGLI runs out 120 days after you transition out of the military. Use this calculator to figure out how much insurance you need to cover your family's expenses.
Roses or candy are still great gifts on February 14th, but add in a review of your life insurance and financial obligations annually. If you'd like help or have questions, contact a friendly USBA Product Specialist for a free needs assessment and no-obligation quote at 877-297-9235. Or you can contact us here.
---
1/16/2018
USBA: Life insurance for military veterans and federal employees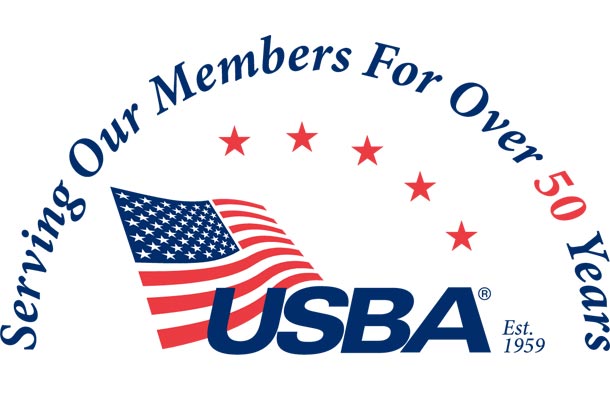 The Uniformed Services Benefit Association (USBA) is a nationally recognized non-profit organization with the mission of serving military families. We provide our members with quality veterans group life insurance products, affordable rates and coverage you can keep after SGLI runs out.
In addition to serving veterans of the U.S. Army, Navy, Marines, Air Force and Coast Guard, we also provide veterans insurance benefits for National Guard and Reserve members, as well as federal employees.
USBA was founded in 1959 to meet the needs of active duty military who were having difficulty finding adequate life insurance. They needed insurance protection that covered combat-related deaths. USBA was one of the first veterans life insurance providers to do away with the exclusionary "war clause" in all its group insurance underwritten by New York Life Insurance Company. (Note: A war clause excludes payment of claims due to acts of war such as invasion, insurrection, revolution, military coup, even terrorism.)
USBA employees include veterans and retired military members from many of the armed services, as well as non-military insurance professionals. Together, we've safeguarded military families through 12 presidents, 3 wars, and repeated ups and downs in the U.S. economy.
If you're transitioning or retiring from the military in 2018, now's a good time to learn about USBA's group life insurance for military families. Your SGLI will run out 120 days after you leave military service.
---
1/2/2018
Help for military transitioners in 2018
As you know, USBA offers affordable group life insurance to active, transitioning and retired military personnel. We also provide members with information about valuable resources that can help you as you exit military service. Here's one transition resource that may surprise you–the USO.
USO Pathfinder is a free employment readiness program connecting veterans and their families with a network of beneficial resources. In October 2017, Boeing announced a $5 million donation to expand USO Pathfinder's reach.
PERSONALIZED ASSISTANCE. USO Pathfinder SCOUTS work one-on-one with transitioning military personnel and spouses to develop individualized action plans for reaching personal and professional goals. If transitioning is in your future, start the New Year by connecting with a USO Pathfinder SCOUT here.
RESUME HELP. Partnering with the U.S. Chamber of Commerce Foundation's Hiring Our Heroes, the USO offers an app-based Resume Engine. Use it to translate your highly valuable military experience into a powerful civilian resume, then connect with a network of companies hiring service members.
MENTORING. Job-seeking transitioners and their spouses can get mentoring assistance through the USO and Veterati. Sign up for a free 1-hour phone call with a successful professional who can help you make critical connections as you re-enter civilian life.
As with USO support, USBA's group life insurance doesn't end when you leave the military. Thousands of transitioning soldiers, sailors, marines and airmen turn to USBA to replace their SGLI life insurance for military. Remember, your SGLI ends 120 days after leaving military service. The USBA mission is to protect your loved ones for life.
Photo credit: CBS 2, New York
---