6/15/2018
Military spouses are transitioners, too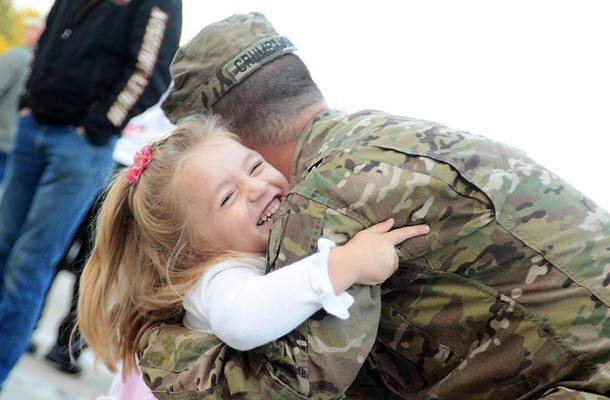 Search the Internet and you'll find hundreds of articles to help transitioning military. But what about their spouses? When a Soldier, Sailor, Airman, Guardsman or Marine transitions/retires, it affects the spouse, too.
Where can a military spouse go for help handling the changes they face? Here are some articles that may help.
Preparing for Transition from the Military: Arm Yourself with Knowledge
Make sure to scroll to the end where MilitarySpouse.com offers helpful links to online resources including transition assistance by branch of service, school ratings (K-12), state tax information, and cost-of-living calculators for comparing cities.
10 Tips for the Retiring Spouse
This list covers everything from Tricare and moving to volunteering or starting a new career.
Military Spouses: This Military Transition Is Yours, Too!
Get four important tips for how to address your family's financial readiness as you transition into the civilian world.
USO Pathfinder: Transition Resources for Service Members and Military Spouses
USO Pathfinder Scouts help transitioning military members and their spouses navigate re-entry into civilian life. Scouts connect individuals to public and private resources nationwide up to one year prior to transition and one year after separation. Find a USO Pathfinder location near you.
What Transition Means To A Military Spouse
Read how the USO Pathfinder program helped one military spouse and her family work through the transition process.
USBA recognizes the important role military spouses play. That's why we offer affordable life insurance for qualifying military spouses. A USBA member's lawful spouse, age 54 and under, may obtain group life insurance coverage as an Associate Member even after transition or retirement. Learn more.
---
6/4/2018
Career resources for transitioning military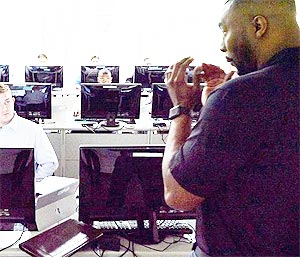 The Departments of Defense and Labor offer the Transition Assistance Program (TAP) to all military service members transitioning out of the U.S. armed forces and their spouses. Resources are available at no cost and include job skills assessment, job placement counseling, resume writing, employment networking workshops, and financial planning assistance. Learn more.
The Army, Air Force, Navy, Marines and Coast Guard each provide a transition program designed to help their own members and spouses prepare for civilian life.
Army: Soldier For Life – Transition Assistance Program centers are found at many Army installations, whether CONUS or OCONUS. Get information about available resources here.
Air Force: Contact your local Airman & Family Readiness Center to schedule pre-separation counseling and get detailed information about other transition services.
Navy: Transition Goals, Plans, Success (TGPS) provides resources and services to ensure Sailors are prepared to transition from military to civilian life.
Marines: Learn more about the Marine Corps comprehensive Transition Readiness Program here.
Coast Guard: The Coast Guard Office of Work-Life provides transition assistance starting with pre-separation counseling.
Depending on your specific situation, additional resources such as these may help pave the way to a new civilian career for you.
Microsoft Software & Systems Academy (MSSA)
MSSA provides transitioners and veterans with the highly marketable skills required to work in today's technology industry. It offers 18 weeks of training for high-demand careers in cloud development, cloud administration, cybersecurity administration, and database and business intelligence administration. Graduates gain an interview for a full-time job at Microsoft or one of its hiring partners. For each career path, Microsoft provides free Microsoft Virtual Academy courses to help you prepare for required MTA certification exams. Learn more.
Logistics Credentialing Program
The Manufacturing Skill Standards Council offers two nationally recognized credentials free of charge. The Certified Logistics Associate and Certified Logistics Technician credentials can be earned by enlisted 92A automated logistical specialists and 92Y unit supply specialists, as well as warrant officer 920A supply systems technicians, and 920B property accounting technicians. Learn more.
Onward to Opportunity-Veterans Career Transition Program (O2O-VCTP)
Syracuse University&qts O2O-VCTP provides civilian career training, professional certifications and job placement support to transitioning service members, members of the selected reserves, veterans, and military spouses. O2O-VCTP partners with companies committed to training and hiring military and their spouses earlier in the transition process. If you aren't located near an O2O-VCTP on-base installation, distance-learning opportunities are available. No cost to participants. Learn more.
Military Transition Certificate
University of Kansas offers an online Military Transition Certificate providing resources, training and business connections for transitioning service members and spouses. The Certificate is designed for U. S. military within their last 18 months of service preparing to enter the civilian workforce. Current and former members of the U.S. military, National Guard, and Reserves are eligible. The certificate is offered online for academic credit. In-state tuition applies with financial aid available. Learn more.
Hiring Our Heroes (HOH)
HOH is a U.S. Chamber of Commerce Foundation program launched in 2011. It's a nationwide initiative to help veterans, transitioning service members, and military spouses find employment after leaving the military.
And, remember, USBA's website offers a military-focused job site as well as white papers discussing the job seeking challenges that face those transitioning out of the military. While you are there, check out USBA's life insurance options to replace your SGLI which will expire 120 days after you leave the service.
---
5/18/2018
GI Bill® Comparison Tool makes college planning easier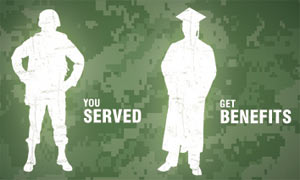 Whether you're active duty, a veteran, National Guard or Reserve, you and your family can use the GI Bill® Comparison Tool to learn how your veterans educational benefits apply at the schools of your choice.

It's a simple way to do an online comparison. Just select a school to see an estimate of your benefits, availability of on–campus veterans programs, retention rates for veterans, average salaries and student comments. It also provides school accreditation information and if the school offers college credit for military service.

Then check here to see if you're eligible for additional educational benefits through the Forever GI Bill–Harry W. Colmery Veterans Educational Assistance Act signed into law August 17, 2017.
---
5/7/2018
How to avoid paying state income tax on your military retirement pay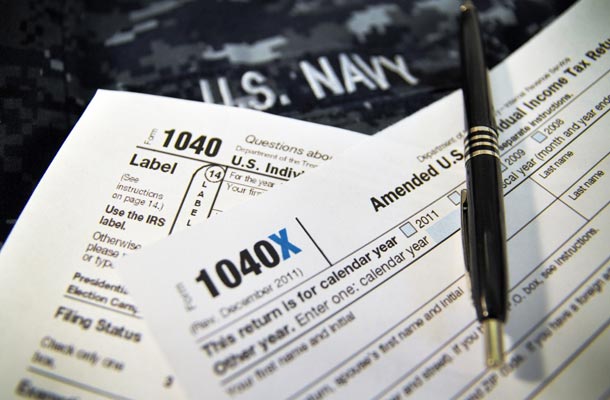 If you're retired or getting ready to retire from military service, keep in mind civilian life can be expensive. If you're looking for ways to save money, here's something to consider.
Depending on the state in which you retire, you may not have to pay state income tax on all or part of your military retirement pay. Here's a quick overview of how it's taxed (or not taxed) in all 50 states as of 2018.
Nine states don't require military veterans to pay state income tax on military retirement pay because these states don't collect state income taxes from residents: Alaska, Florida, Nevada, New Hampshire, South Dakota, Tennessee, Texas, Washington and Wyoming.
On the flip side of the coin, these nine states do tax military retirement pay and have a state income tax: California, Georgia, Montana, New Mexico, North Dakota, Rhode Island, Utah, Vermont and Virginia.
Twenty more states don't tax military retirement pay, but do have a state income tax. New to this list in 2018 is West Virginia: Alabama, Arkansas, Connecticut, Hawaii, Illinois, Iowa, Kansas, Louisiana, Maine, Massachusetts, Michigan, Minnesota, Mississippi, Missouri, New Jersey, New York, Ohio, Pennsylvania, West Virginia and Wisconsin.
There are also twelve states with special provisions or other considerations for the taxing of military retirement pay. You can read more about these here.
Because tax codes vary by state and can change from year to year, you should consult a tax professional to learn about the most recent updates.
U.S. Navy photo by Mass Communication Specialist 1st Class Patrick Gordon.
---