6/3/2019
When is PTSD Awareness Month and why does it matter?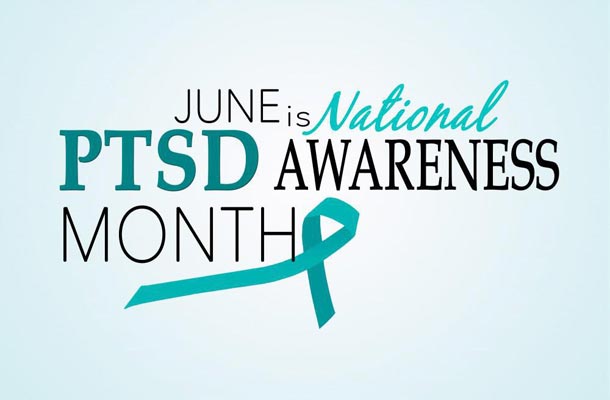 June is national PTSD Awareness Month. Many people have heard of PTSD, but don't know what it is or how it affects our U.S. service members and their families. Now is the time to learn more.
PTSD stands for Post-Traumatic Stress Disorder, a condition that can affect veterans and non-veterans alike. PTSD may occur when someone experiences or witnesses a shocking or dangerous event on the battlefield or in everyday life. Having PTSD is not a sign of weakness. Seven to eight percent of the general population will experience PTSD at some point in their lives. For veterans, the numbers can be higher.
According to the U.S. Department of Veterans Affairs, the number of veterans with PTSD varies by service era:
Operations Iraqi Freedom (OIF) and Enduring Freedom (OEF): Between 11%-20% who have served in OIF or OEF have PTSD in a given year.
Gulf War (Desert Storm): Approximately 12% of Gulf War veterans have PTSD in a given year.
Vietnam War: It's estimated that 30% of Vietnam veterans have had PTSD in their lifetime.
The specific nature of PTSD-related trauma varies greatly. And while combat and combat-related military service can be traumatic, not everyone who serves under these conditions reacts in the same way. Some may develop PTSD symptoms, while others remain unaffected.
Shell shock or battle fatigue were terms once used to describe the symptoms of what now is called PTSD. Today, the symptoms of PTSD are better understood and recognized by the Department of Veterans Affairs as a service-related condition.
Having PTSD is not
a sign of weakness.
Attitudes about and understanding of PTSD began changing in 1980 when it first was recognized as a specific condition with identifiable symptoms. Post-Traumatic Stress Disorder is now listed in the American Psychiatric Association's Diagnostic and Statistical Manual of Mental Disorders (DSM).
As with many mental health concerns, PTSD has no single tell-tale sign. There are a variety of symptoms that can be associated with the condition. Many of these may seem relatively harmless on their own such as bad dreams, sleeplessness and irritability. Other symptoms include repeated and unwanted memories or flashbacks of a traumatic event, feeling emotionally detached, intense guilt, angry outbursts or avoiding situations that are reminders of the trauma. Learn more about PTSD and veterans' symptoms.
In extreme cases, a person may experience suicidal feelings or self-destructive urges and should get help immediately by calling 1-800-273-8255, texting 838255 or connecting with a crisis responder online. This support is free and available to all service members, veterans, and their families and friends.
Treatments vary by individual. Some of the most innovative include animal-assisted therapy using specially PTSD-trained service dogs, horses and rescue wolves. The most important thing is to get help and realize you or your loved one are not alone in this battle.
USBA is a not-for-profit organization providing affordable insurance, financial products and services to Active Duty, Retired Military, Transitioning Military, Veterans, National Guard and Reserve Members, Federal employees and their families. At USBA, we remain: Armed with Compassion. Dedicated to Service.℠
---
5/21/2019
When is Memorial Day and how is Memorial Day different from Veterans Day?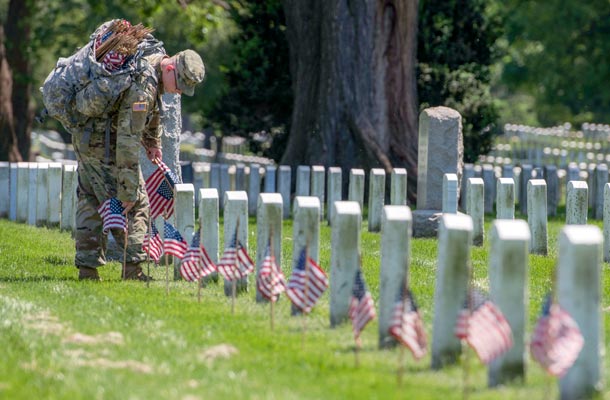 Memorial Day is a federal holiday observed annually on the last Monday of May. This year Memorial Day falls on Monday, May 27th. While many Americans may think of it as a day for picnics and parades, its meaning goes much deeper for the families of our fallen soldiers, airmen, Marines, Coast Guard and sailors. It's a time when our country pays tribute to veterans who died while serving in the military service, particularly those who died in battle.
Memorial Day began sometime after the Civil War. It started with both formal and informal ceremonies at the graves of soldiers who had fallen in battle. In 1868, the Grand Army of the Republic, a Union veterans' organization, established May 30th as Decoration Day, a time for the nation to decorate military graves with flowers. This custom continues today with the placing of flags and flowers on military graves across the United States. In 1971, Memorial Day was declared a national holiday to be celebrated on the last Monday in May.
People who haven't served in the military often wonder what makes Memorial Day different from Veterans Day. Veterans Day is also a federal holiday that always falls on November 11th. It's a day set aside to thank and honor all veterans who have served honorably in the military during both war and peace. Veterans Day is an opportunity for us to thank living veterans of all branches for their service and sacrifice that have kept our country safe and secure.
This year, as in the past 11 years, USBA will commemorate Memorial Day by sharing an electronic postcard as a tribute to those who have died in service of their country.
Photo courtesy of Department of Defense. Photo by Spc. Lane Hiser.
---
5/1/2019
Do military veterans need long-term care insurance?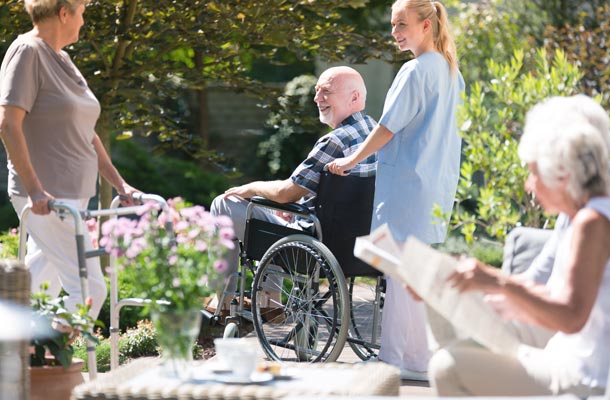 Here's why veterans, regardless of age, should consider having long-term care insurance as part of their personal financial plan.
Nearly 70% of Americans turning 65 will need some type of long-term care services in their lifetime.¹ This care could be provided in-home or in an assisted living facility or nursing home. However, in the case of veterans, the need for long-term care often comes at a younger age due to a military service-related injury, accident, illness or conditions such as PTSD.
There are over 5.5 million in-home military caregivers in the U. S. with nearly 20% providing long-term care for veterans who served since the attacks of September 11, 2001.² These caregivers are typically unpaid family members. Studies show military caregivers experience more health problems and face greater strains on family relationships.*
Having a plan for how you want to handle long-term care should you need it could save your family money, reduce stress, provide for essential care and support, and allow you to continue making your own choices. Here are some things you should know as you plan ahead.
Long-term care isn't covered by Tricare, Social Security, health insurance or Medicare. It may be covered by Medicaid, but only if you meet financial need requirements. Having pension income such as military retirement pay may disqualify you.


The median cost of long-term care in a nursing home semi-private room is over $89,000 a year. Care in a full-time, assisted living facility is $48,000 a year. Even in-home health services provided by someone other than a family member can cost over $40,000 a year.³
So, how can you cover costs like these and reduce stress on your family? Long-term care insurance is one option. But if you wait until you need long-term care coverage to buy it, you've waited too long. The younger and healthier you are when you apply, the lower your cost. It only takes a minute to find out about long-term care insurance offered through USBA. There's no obligation.
*If someone you know is a military caregiver, he or she can find peer support and helpful resources by visiting Hidden Heroes.
USBA is a not-for-profit organization that provides affordable insurance, financial products and services to Active Duty, Retired Military, Transitioning Military, Veterans, National Guard and Reserve Members, Federal employees and their families.
¹ U.S. Dept. of Health and Human Services
² RAND Corporation, 2014
³ Genworth Cost of Care Survey 2018
---