6/15/2017
Plans for new veterans memorial making progress
The National Mall in Washington, D.C. is home to memorials honoring veterans of World War I and II, Korea and Viet Nam. But there's no monument honoring the sacrifices of our post 9/11 military veterans. Civilians are honored at the National September 11 Memorial and Museum at Ground Zero in New York City, the Pentagon in Washington, DC, and at a memorial in Shanksville, Pennsylvania, but not our military.
Now there's an organized effort to build a memorial for those who served and continue serving in the Global War on Terror. According to the Global War on Terror Memorial Foundation website, the purpose of the monument is to honor all who have served since September 11, 2001, and to educate future generations about our nation's longest war.
Legislation to authorize construction is moving slowly through Congress. Much of its progress is due to the efforts of former Rep. Ryan Zinke, Navy SEAL and now Interior Secretary; Rep. Mike Gallagher, a Marine who served two tours in Iraq; and Rep. Seth Moulton, a former Marine officer with four combat tours in Iraq.
No site or design has been selected because under federal law the project can't move forward until 10 years after the conflict ends. With no end in sight, supporters are lobbying for a waiver to the 10-year rule so work can begin. It's time we honor the nearly 7,000 U.S. troops killed and millions deployed in this war. Learn how you can help.
Important Note: June 27th is PTSD Awareness Day. Studies show that one in five veterans deployed in Iraq or Afghanistan have suffered from PTSD or major depression. If you know a veteran experiencing nightmares and flashbacks, having difficulty sleeping, or feeling detached or estranged, resources are available to help.
---
6/1/2017
DoD retirement calculator now available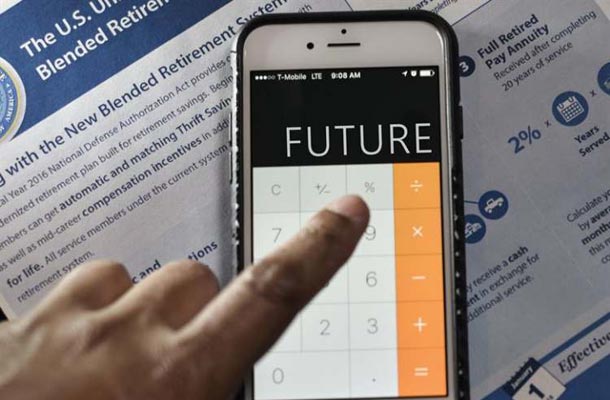 The long-awaited Department of Defense Blended Retirement System Comparison Calculator is now available online. It helps eligible service members compare the legacy military retirement system (High-3 System) with the new blended retirement system (BRS). This calculator is designed to be used after completing the mandatory BRS Opt-In Course online.
The calculator asks you for basic information such as your age, years of service, rank and estimated years of service at the time of separation or retirement. It then automatically fills in information such as expected rate of investment return, life expectancy, Thrift Savings Plan (TSP) contribution percentage, and career progression. Fields can be altered to individualize results. Using the information you provide, the calculator provides you with a comparison of the two plans.
The online calculator and BRS Opt-In Course are resources being made available to service members and their families prior to January 1, 2018 when the BRS goes into effect.
Watch this video to learn more about who is eligible to participate in the BRS and how it may benefit you and your family.
Now's also a good time to review your life insurance as part of planning ahead. SGLI ends 120 days after you leave military service. USBA provides military veterans with "portable" life insurance coverage that fits the unique needs of those serving, transitioning and retired from military service. You can buy it now and keep it no matter where your civilian life takes you.
---
5/15/2017
Veterans Choice Improvement Act signed into law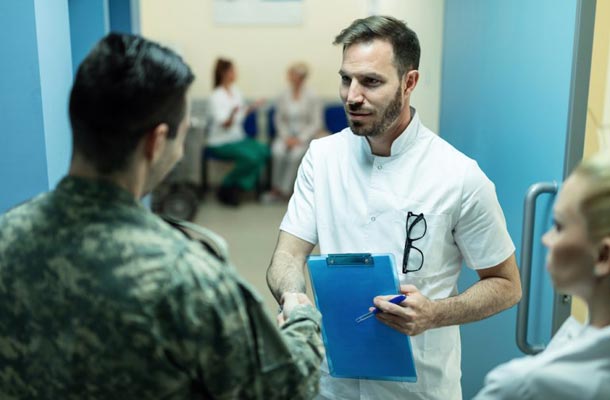 The recently passed Veterans Choice Program Extension and Improvement Act both extends and expands an important program at the Department of Veterans Affairs (VA).
Originally created by Congress in 2014, the choice program was set up as a pilot program limiting when and where veterans could use private doctors. Patients could only use the Choice Program if they lived more than 40 miles away from a VA hospital or if they couldn't get an appointment at their local VA facility within 30 days. The original program was set to expire August 7, 2017, with $950 million in program funding still available.
The new legislation keeps the program in place while addressing a major complaint of veterans' organizations. It directs the VA to cover co-pays and deductibles directly for private care rather than reimbursing veterans for paying up front.
It makes the VA the primary payer (previously the VA was the secondary payer) for medical care relating to non-service connected disabilities and recovery of costs from third parties for certain types of care under the program. The revised law also allows the VA to share patient information more easily with private health care providers.
Under the new legislation, the VA is allowed to continue operating the Choice Program until funding runs out, which is expected early next year. This extension gives Veterans Affairs Secretary David Shulkin time to develop a more comprehensive plan that would allow all veterans easier access to care outside the VA health system. Shulkin has said he would like to expand veterans' access to private care by eliminating the program's current 30-day, 40-mile restrictions.
---
5/3/2017
National Military Spouse Appreciation Day 2017 is May 12th
Celebrated the Friday before Mother's Day, this year's National Military Spouse Appreciation Day is Friday, May 12th. USBA salutes these special women and men who support our troops throughout mission, deployment, reintegration and transition. You are the backbone of our military families.
In celebration of Military Spouse Appreciation Day, the armed forces hosts special events and programs to inform, honor and recognize military spouses. Events include appreciation luncheons, as well as educational workshops and spouse employment fairs. Use #MilitarySpouseAppreciationDay to post and follow what's happening on social media.
While May 12th is an opportunity to show support for our country's military spouses for one special day, here are some year around resources for these special women and men. Some are fun. Some are free. All are good to have on your radar.
Attending military balls and gala events can be pricey, but they're an important part of the military tradition. To help military spouses on tight budgets, Operation Deploy Your Dress provides free formal wear (ball gowns for gals AND tuxedoes for guys) to US military ID holders. ODYD is a 100% donation-based, volunteer run, military spouse founded, nonprofit organization. It currently has three stand-alone stores. Find out if a pop-up store may be coming to your area.
If you're a male military spouse, you're not alone. Women make up approximately 15% of our military force. This means there are more male military spouses than you may realize. The military is becoming more aware of—and responsive to—the unique needs of these men. Here's a resource to help guys adjust to being military spouses.
Do you know someone considering going back to school? Check out these schools known for being military-spouse-friendly.
Military spouses need life insurance, too. USBA's Double Value TWO for ONE term life insurance protects two lives with one policy and one affordable premium. Maximum coverage available for spouses is 5 times that available with SGLI. Get a free military life insurance quote.
---