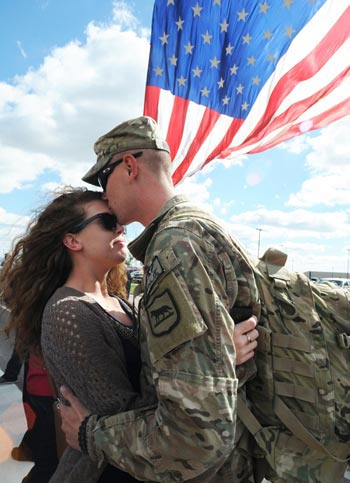 In the military, everybody gets standard issue. In basic, you learn to march in step. On active duty, you wear the same camo, chow down in the same DFAC, rack out in the same barracks, and hear the same jokes from the same buddies.
Your SGLI is like that too: standard issue. SGLI is designed to fit your needs–as long as your needs are just like everybody else's. The same applies to Veterans Group Life Insurance (VGLI), available when you leave the service. VGLI term life insurance is available with no health underwriting to every veteran who submits the paperwork within 240 days after separation–for the amount of SGLI coverage you had at separation or less. It's needed, it's great. But it's standard issue.
And that's where USBA comes in. We believe once you're back to civilian life, you might appreciate a little more choice.
We specialize in life insurance for military veterans and their families, and we don't stop with standard issue. Our dedicated staff, including retired Service members and family of Service members, will work with you to help you choose your life insurance plan, with benefits that give you and your family peace of mind, at a rate you can afford.
How does USBA compare to Veterans Group Life Insurance? Let's start with premiums. Within 240 days after separation, VGLI rates are based strictly on your age, so good health gets you nowhere. In other words, with VA life insurance, you only get standard–issue coverage, but you pay the brass hat price. And premiums rise every five years no matter what.
USBA, on the other hand, recognizes the hard work you do to stay healthy. If you don't smoke, and lead a relatively healthy lifestyle, you could qualify for our preferred–rate premiums.
Even if you don't qualify for our preferred rates, USBA's standard rates put the choices on your side. Many veterans choose our 20, 15, or 10 Year Group Level Term plans. These plans are affordable–in many cases, you can help protect your family's financial future for less than it costs to take them out for pizza once a month.*
These affordable group term life insurance plans offer premiums designed to stay level for 10, 15, or 20 years, depending on your budget and coverage needs. With some age restrictions, you're guaranteed the option to renew at the end of your first term, regardless of health. As for your coverage amount, that never decreases, as long as premiums are paid and the policy remains in force.
See 20 Year Group Level Term facts here.
See 15 Year Group Level Term facts here.
See 10 Year Group Level Term facts here.
Here's another USBA favorite you won't find offered through VA life insurance: Our TWO for ONE Family Group Level Term life insurance plan, designed for military households where both legally married spouses contribute to the family. Standard issue life insurance is written so that benefits are activated only on the death of the "primary breadwinner." But who is that exactly? In today's military, both spouses may bring home paychecks or contribute as a stay at home parent. For our hard–working members, USBA created Two for One, a term life plan that provides coverage on the death of whichever legally married spouse dies first–for one low premium!
USBA is dedicated to serving our post–separation military families with choices you just won't find through VA life insurance. Like the massive difference in benefits. VGLI is capped at $400,000. USBA lets you combine coverage to provide up to $650,000 in benefits for your family.
Of course it's about more than just money. It's how we're able to partner with you and your family. We offer an emergency payment of up to $15,000 of benefits on telephone notification of a policyholder's death–a great comfort at a challenging time. Some restrictions apply, contact USBA for details. We offer coverage options for children, and whole life policies with lifetime coverage that builds cash value.
Call us today at 877-297–9235 from 8:00 a.m. – 4:30 p.m. Central time, Monday through Friday (or leave a message after hours for a prompt call back) and let's talk about the choices USBA can offer you. Then compare what we offer to the standard–issue policies you'll get elsewhere.
Like thousands of satisfied members since 1959, we think you'll choose USBA.
* Average cost of a pizza in the USA is $13.21. Source:Â National Pizza Index, March 2014.
Photo courtesy of Department of Defense.