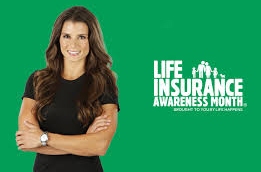 Danica Patrick and those in the military service both have risky jobs. Patrick built her career driving 200 mph as a NASCAR race car driver. You know firsthand the 24/7 risks of serving in the military.
This September Patrick is also serving as 2016 spokesperson for Life Insurance Awareness Month. Her mission is personal. "Driving race cars is risky. Not having life insurance is riskier. It means leaving your loved ones to suffer financially if something happened to you." And that's something her family knows about firsthand. Both of Patrick's parents lost their fathers when they were teens. Neither father had life insurance. Patrick's mom was one of five kids and remembers her own mom—Patrick's grandmother—having to sell most of the family farm to pay the bills. Watch Patrick share her story.
Patrick's message is simple. Don't take the unnecessary risk of leaving those counting on you without the money they'll need if something happens to you. If you're retired military or about to transition out of military service, make sure you have life insurance to provide for your loved ones. Your SGLI ends 120 days after you leave the service.
Use this life insurance calculator to estimate how much financial protection your family needs. Then check out USBA's affordable life insurance plans. We've got coverage for you, your spouse, even your children.