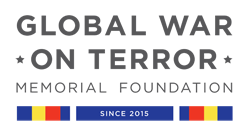 Over a year ago, we shared news of growing support for a memorial honoring veterans of the Global War on Terrorism. Here's an update on the progress that's been made.
August 18, 2017, President Trump signed legislation providing for the construction of a memorial to U.S. service members who have fought in the Global War on Terrorism. This law authorizes a nonprofit, the Global War on Terrorism Memorial Foundation, to oversee creation of the monument planned for the National Mall in Washington, D.C. Most importantly, the law exempts the memorial from federal legislation prohibiting the installation of such tributes on the Mall until at least 10 years after a war has ended as the War on Global Terrorism is still underway.
April 9, 2018, Michael "Rod" Rodriguez, an Army Special Forces veteran, was named new director of the Global War on Terrorism Memorial Foundation after the group's founder left in mid-March. Rodriguez will lead the Foundation through the multi-year process of raising funds, selecting a site, designing and constructing the memorial.
The Foundation's goal is to raise $40 to $50 million for the memorial that's expected to be completed in 2024. A design has yet to be determined. Learn more here.