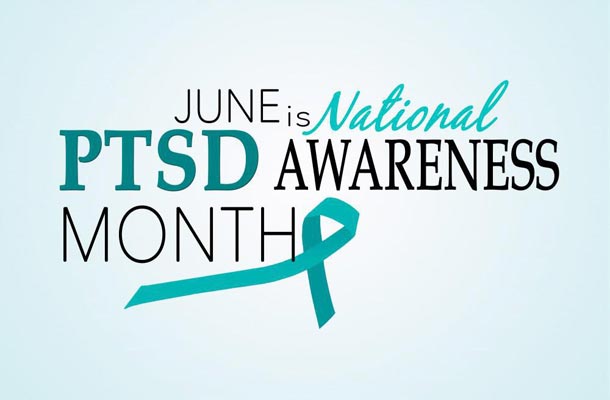 June is national PTSD Awareness Month. Many people have heard of PTSD, but don't know what it is or how it affects our U.S. service members and their families. Now is the time to learn more.
PTSD stands for Post-Traumatic Stress Disorder, a condition that can affect veterans and non-veterans alike. PTSD may occur when someone experiences or witnesses a shocking or dangerous event on the battlefield or in everyday life. Having PTSD is not a sign of weakness. Seven to eight percent of the general population will experience PTSD at some point in their lives. For veterans, the numbers can be higher.
According to the U.S. Department of Veterans Affairs, the number of veterans with PTSD varies by service era:
Operations Iraqi Freedom (OIF) and Enduring Freedom (OEF): Between 11%-20% who have served in OIF or OEF have PTSD in a given year.
Gulf War (Desert Storm): Approximately 12% of Gulf War veterans have PTSD in a given year.
Vietnam War: It's estimated that 30% of Vietnam veterans have had PTSD in their lifetime.
The specific nature of PTSD-related trauma varies greatly. And while combat and combat-related military service can be traumatic, not everyone who serves under these conditions reacts in the same way. Some may develop PTSD symptoms, while others remain unaffected.
Shell shock or battle fatigue were terms once used to describe the symptoms of what now is called PTSD. Today, the symptoms of PTSD are better understood and recognized by the Department of Veterans Affairs as a service-related condition.
Having PTSD is not
a sign of weakness.
Attitudes about and understanding of PTSD began changing in 1980 when it first was recognized as a specific condition with identifiable symptoms. Post-Traumatic Stress Disorder is now listed in the American Psychiatric Association's Diagnostic and Statistical Manual of Mental Disorders (DSM).
As with many mental health concerns, PTSD has no single tell-tale sign. There are a variety of symptoms that can be associated with the condition. Many of these may seem relatively harmless on their own such as bad dreams, sleeplessness and irritability. Other symptoms include repeated and unwanted memories or flashbacks of a traumatic event, feeling emotionally detached, intense guilt, angry outbursts or avoiding situations that are reminders of the trauma. Learn more about PTSD and veterans' symptoms.
In extreme cases, a person may experience suicidal feelings or self-destructive urges and should get help immediately by calling 1-800-273-8255, texting 838255 or connecting with a crisis responder online. This support is free and available to all service members, veterans, and their families and friends.
Treatments vary by individual. Some of the most innovative include animal-assisted therapy using specially PTSD-trained service dogs, horses and rescue wolves. The most important thing is to get help and realize you or your loved one are not alone in this battle.
USBA is a not-for-profit organization providing affordable insurance, financial products and services to Active Duty, Retired Military, Transitioning Military, Veterans, National Guard and Reserve Members, Federal employees and their families. At USBA, we remain: Armed with Compassion. Dedicated to Service.℠