Sunday, October 26th marks the fourth annual observance of National Day of the Deployed.
With recent international developments, it's more important than ever that our deployed military service men and women and their families know that we stand with them and support them.
According to Patti Patton Bader, one of the first to recognize the deployed service member, "Day of the Deployed is a day to honor the many selfless actions demanded of military members and their loved ones across the globe. It serves as a tangible reminder of the sacrifice being made in homes across America every day. Every deployment reflects the deep commitment of not only the deploying member, but of the many friends and loved ones who are left behind to aid in answering our nation's call."
What can you do to support deployed friends, family and total strangers who risk their lives daily for our freedom?
For the families serving at home, the smallest things often matter the most such as a few kind words of encouragement, a personal note, a shared meal, or an offer to help in any way.
For those deployed, the USO has many ways to help you show your support. You can use this USO online tool to send a message of thanks to our troops. If you know a deployed soldier in need of free prepaid international phone cards to call home, check out USO Operation Phone Home™. Plus, the USO Photo Book program helps you create and send a 5x7 photo book to any service members stationed abroad—entirely free. Books hold more than 60 photos and fit in a soldier's cargo pocket.
Many other not-for-profit and volunteer organizations provide other opportunities to help us stay connected with our deployed military. Here are just a few: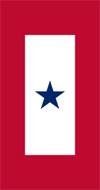 An online search provides other opportunities for supporting deployed troops and their families. The most important thing this October 26th—and every day of the year—is for those who serve outside our country's borders to know they have our full support.
We salute all those displaying the Blue Star Flag authorized by the Department of Defense for display by families who have members serving in the Armed Forces during any period of war or hostilities the United States may be engaged in for the duration of such hostilities.