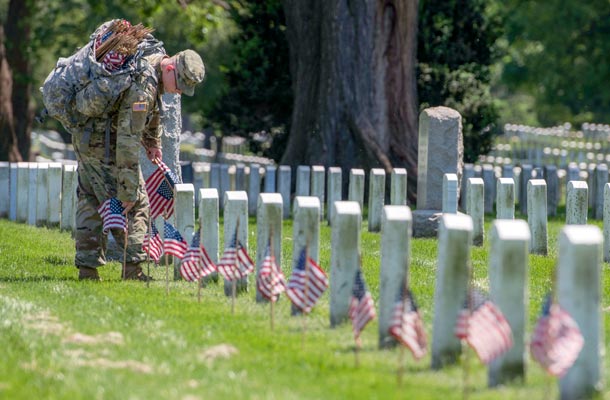 Memorial Day is a federal holiday observed annually on the last Monday of May. This year Memorial Day falls on Monday, May 27th. While many Americans may think of it as a day for picnics and parades, its meaning goes much deeper for the families of our fallen soldiers, airmen, Marines, Coast Guard and sailors. It's a time when our country pays tribute to veterans who died while serving in the military service, particularly those who died in battle.
Memorial Day began sometime after the Civil War. It started with both formal and informal ceremonies at the graves of soldiers who had fallen in battle. In 1868, the Grand Army of the Republic, a Union veterans' organization, established May 30th as Decoration Day, a time for the nation to decorate military graves with flowers. This custom continues today with the placing of flags and flowers on military graves across the United States. In 1971, Memorial Day was declared a national holiday to be celebrated on the last Monday in May.
People who haven't served in the military often wonder what makes Memorial Day different from Veterans Day. Veterans Day is also a federal holiday that always falls on November 11th. It's a day set aside to thank and honor all veterans who have served honorably in the military during both war and peace. Veterans Day is an opportunity for us to thank living veterans of all branches for their service and sacrifice that have kept our country safe and secure.
This year, as in the past 11 years, USBA will commemorate Memorial Day by sharing an electronic postcard as a tribute to those who have died in service of their country.
Photo courtesy of Department of Defense. Photo by Spc. Lane Hiser.